Gay, lesbian groups criticize Kenyan leader's remarks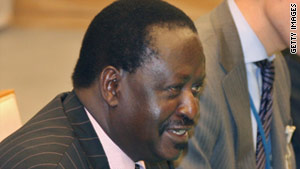 A spokesperson for Raila Odinga said his comments were off the cuff and not a directive to arrest anyone.
STORY HIGHLIGHTS
Prime minister says gays, lesbians to be arrested
Activist: "Gay community is very scared"
Odinga made remarks at Nairobi rally
Homosexuality is a crime in Kenya carrying a 14-year jail term
Nairobi, Kenya (CNN) -- Supporters and members of the gay and lesbian community in Kenya blasted the country's prime minister Monday after he said anyone engaging in homosexual activity should be arrested.
"The gay community is very scared as the Prime Minister's statement will incite more violence against visible gays," David Kuria, a spokesperson for the Gay and Lesbian Coalition of Kenya told CNN.
Prime Minister Raila Odinga made the comments Sunday while attending a rally in the Kibera neighborhood of Nairobi.
"The constitution is very clear on this issue and men or women found engaging in homosexuality will not be spared," Odinga said during the rally. "If we find a man engaging in homosexuality or a woman in lesbianism, we'll arrest them and put them in jail," Odinga said.
Homosexuality is a crime in Kenya and has a jail term of up to 14 years. The country's new constitution disallows same-sex unions.
Gay rights have been a source of contention in Kenya in the past. In February an armed group raided a government health center that provides HIV/AIDS services to the community. The group insisted they were trying to "flush out the gays," according to a Human Rights Watch report.
A spokesperson of the prime minister's office, Dennis Onyango told CNN that the comments made by Odinga were off the cuff and were not a directive to arrest anyone. Kuria said the comments triggered state-sponsored homophobia.
"All the years of hard work we've done to curtail intimidation, violence and blackmail towards homosexuals has now been adversely reversed," said Kuria.
Lawrence Mute of the Kenya National Human Rights Commission says that the prime minister's comments unwisely encourage hate crimes based on assumed sexuality.
"Under the bill of rights, people should be treated equally regardless of their sexual orientation," Mute said.
Lillian Leposo contributed to this report.
FOLLOW THIS TOPIC