STORY HIGHLIGHTS
NEW: Violence breaks out between some competing candidates
NEW: The government says election day appears to be a success
43 people are arrested on suspicions of voter fraud
More than 500 seats in Egypt's parliament are at stake in Sunday's vote
(CNN) -- Egyptian voters headed to the polls Sunday in parliamentary elections that critics have said could be tainted by fraud and intimidation.
Official national results are expected to be announced Tuesday.
Various opposition groups have accused the ruling National Democratic Party of using its power to suppress voices critical of President Hosni Mubarak's nearly three-decade rule. The ruling party has dismissed the accusations.
"Initial reports indicate that election day has been a success," Anas El Fekky, Egypt's minister of information, said in a statement Sunday.
Egypt's official MENA news service reported that 6,000 members of 76 civil groups were monitoring the elections. The country has rejected international monitoring of the vote as interference in its internal affairs.
Safwat Shareef, the ruling party's general secretary, has said Egypt's election committee and "civil community groups will guarantee free and transparent elections."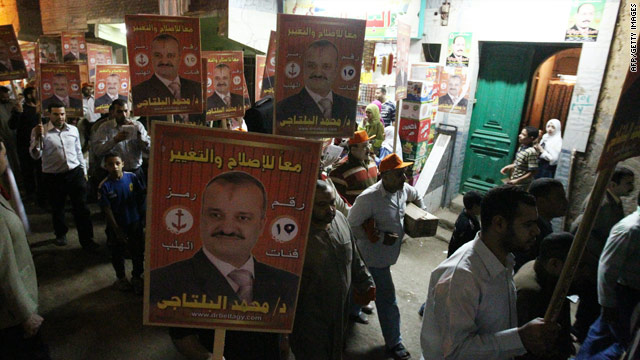 Campaigner in Egyptian elections

Egypt's economic outlook

Egyptian blogger released from prison
But independent election monitors claim elections are anything but that -- noting that elections in Egypt are often characterized by vote-rigging, intimidation and violence.
On Sunday, the son of an independent candidate for parliament died after he was stabbed, MENA reported. According to the news service, Amr Sayed Mohammed was stabbed after he got in a fight with supporters of opposing candidates.
However, the Ministry of Interior released a statement later Sunday saying Mohammed died as a result of a private dispute.
"His two attackers are now in police custody and have been identified as Ali Sultan and Hussein Magdy. Sultan has admitted that they assaulted Sayed because of his harassment of Sultan's sister," the statement said.
Meanwhile, some polling stations experienced violence, MENA and the government reported.
In the city of Damanhoor, an independent candidate attacked people and broke a ballot box, the news agency said. In Mansoura, two candidates from the National Democratic Party physically fought with each other, MENA reported.
Citing the elections commission, Egypt's information minister said violence broke out between competing candidates in a limited number of districts. Police responded.
"Though these events resulted in a limited number of casualties, there were no election-related deaths," said El Fekky.
The elections commission said that a total of 10 ballot boxes were compromised in the Kafr El-Dadwar district in El-Beheira Governate. At one voting center at a school, three polling stations were attacked by candidate supporters and the ballot boxes were destroyed, the elections commission reported.
In a separate incident at another voting center, ballot papers from seven polling stations were stolen, the commission said. Police arrested 43 alleged perpetrators and charges were filed against them, according to the commission.
"While we await the final report of the Commission after its investigation of these incidents, the Government is confident that they have not affected the overall conduct and integrity of the elections," said the statement from the information minister.
Earlier this month, police and members of the Muslim Brotherhood -- Egypt's largest opposition bloc -- violently clashed at a rally in Alexandria, where witnesses said police used tear gas and rubber bullets to disperse the crowd.
While Egyptian authorities have not confirmed the total number of arrests in recent weeks, Muslim Brotherhood officials say more than 1,200 of their members and supporters have been arrested.
Amnesty International has accused Egyptian authorities of silencing critics leading up to the elections. And Reporters Without Borders has condemned what it calls "an increase in measures to control news and information and suppress freedom of expression" as the election neared.
About 830 candidates from the ruling National Democratic Party, 250 from the liberal al-Wafd Party and 130 from the Muslim Brotherhood are running for the parliament's 508 seats.
Muslim Brotherhood candidates run as independents because the group is illegal according to Egyptian law, which bans parties based on religion.
CNN's Ben Wedeman and Amir Ahmed contributed to this report.
FOLLOW THIS TOPIC