STORY HIGHLIGHTS
Given Nkosi has emerged as one of the most talented opera singers in South Africa
The young tenor says he grew up believing that opera was not for people of color
Today he transcends racial boundaries by singing classic European operas
Every week CNN International's African Voices highlights Africa's most engaging personalities, exploring the lives and passions of people who rarely open themselves up to the camera. This week we profile Given Nkosi, one of South Africa's rising opera stars.
(CNN) -- Armed with a powerful voice, young opera star Given Nkosi is one of South Africa's most promising singers.
The 27-year-old tenor's repertoire already includes critically-acclaimed performances in operas by the likes of Handel and Mozart.
But the gifted singer says he never imagined that one day he would be performing some of the greatest musical classics of European opera.
Hailing from the small town of Witbank in the South African province of Mpumalanga, Nkosi says he grew up believing that opera music was not for people of color.

A linguistic challenge

Young man with a big voice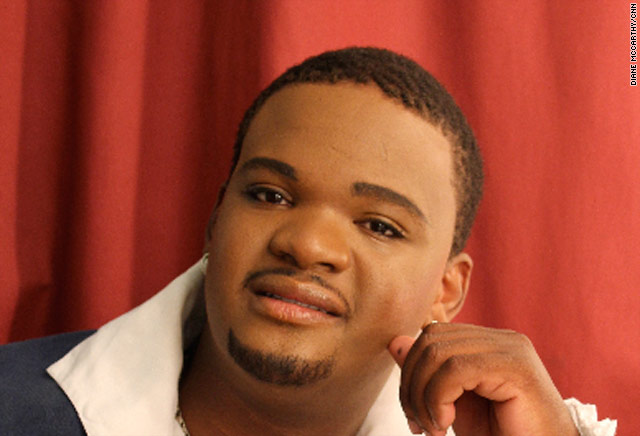 Gallery: Backstage with Given Nkosi
"I grew up in a township where you think music is like only for a certain color, not for us," Nkosi told CNN.
"Every time when you buy a CD, it's always a white person. And then, let's not forget, that time we were not exposed to our color people singing this kind of music. It was always white people."
As a schoolboy, he didn't take singing that seriously because he didn't think he'd be allowed the opportunity to study it.
But Nkosi's talent didn't stay under wraps for long. After successfully participating in school choral competitions, he went on to win several national awards, study at the South African College of Music and perform in many international opera houses.
Today, he transcends racial boundaries by singing classic European operas. His latest role was playing one of opera's most demanding characters -- Edgardo, a 19th century nobleman in Gaetano Donizetti's tragic opera "Lucia di Lammermoor" for Cape Town Opera.
Nkosi says he feels like he is breaking down racial barriers. But playing roles originally written for white men can be tough for black opera singers, he says.
"Most of the things that are happening on stage, most of the periods that the operas are happening, it's when black people were slaves. It's like when other things were happening to the other races.
"So for us, it's actually more difficult because you can't relate into that because it's not something that's in our culture."
It's all about transferring, giving people what you feel about the whole thing.
--Given Nkosi, opera singer
With Zulu being his first language, each role also poses a linguistic challenge to the young singer. He has to charm and convince audiences while navigating songs in Italian, German and French -- the language he says he enjoys singing in the most.
"French, it's just smooth...I love singing in French because I think for the kind of voice that I have, it's quite good and it sits well on my voice."
Nkosi says he has to relate to what's been written and feel the words, not just memorize them, in order to deliver a successful performance.
"That's the tricky part. You translate from Italian into English. And then from English into the language that you speak. It's a long process," he said.
Still at the beginning of his career, Nkosi hopes his voice and audience will continue to grow as he shares his passion and love for opera with fellow South Africans and the world.
When asked what it is about opera that speaks to his soul, he quickly responds: "It's amazing -- it's all about transferring, giving people what you feel about the whole thing.
"You actually realize that at the end of the day it's not about putting it together and [making] beautiful sounds, but it's also about you giving emotions."
Teo Kermeliotis contributed to this report.
FOLLOW THIS TOPIC