STORY HIGHLIGHTS
A tree-planting campaign is giving a much-needed makeover to Soweto township
Johannesburg's estimated 6 million trees have been called the world's largest man-made forest
The Soweto Greening Project aims to plant 200,000 trees in the township
Johannesburg, South Africa (CNN) -- Alice Nyakaza has the best garden on her street. It is a small patch of lawn with some flowers and a fruit tree. She and her son, Themba, are mowing the lawn when we arrive.
Most of the other houses and shacks on the street around her in Orlando East in Soweto are surrounded by dusty lots with little greenery, and further down the road is a pile of garbage where children are playing in front of a shack.
Alice's garden is an island of greenery amidst the poverty. "I like to garden," she said. "When people pass here they see something beautiful."
This is a poor part of Soweto, and Alice, like her neighbors, has little money. Eight people live in her house and in the small tin rooms she has erected. Themba is unemployed. Life is a struggle, but Alice believes in the value of growing her garden and the pride it brings to her family's life.
"I'm very proud," she said. "Because sometimes people come by and they ask to take photos in my garden. I feel happy. When I pick up weeds and dirty things, I feel that everyone likes my garden."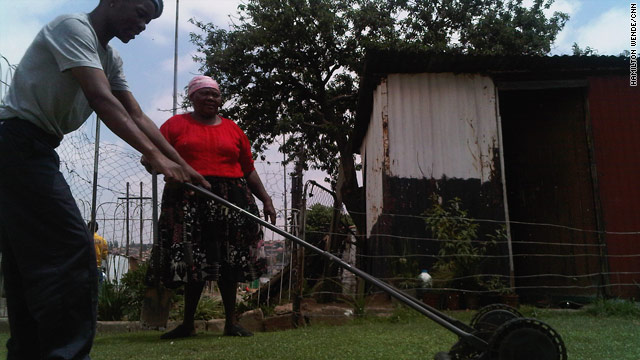 Gallery: Johannesburg's urban forest
All over Soweto, people like Alice are adding greenery to their surroundings. When the township was originally built in the 1940s by the apartheid government, it was intended to be a place where black people would live on a temporary basis. They would inhabit the small brick houses only while their employment contracts were valid. They were supposed to live in Soweto only in order to be able to work for white people in Johannesburg.
No one gave any thought then to creating a decent, habitable environment. A few trees were planted on Soweto sidewalks in the 1950s but there were not nearly enough of them.
The streets and gardens of white Johannesburg, by contrast, were rapidly filled with trees, creating what many have called the largest man-made forest in the world. Johannesburg's City Parks estimates that there are some 6 million trees in Johannesburg, making the city a cool, pleasant and shaded environment to live in.
I like to garden. When people pass here they see something beautiful.
--Alice Nyakaza
Since 2006, however, there has been a massive effort to extend this forest into Soweto. The Soweto Greening Project began that year with 6,000 trees being planted. The aim is to plant 200,000 trees throughout the township to give the residents a green environment
Reggie Moloi, city parks' general manager for Street Trees, points out that there are challenges too. Pipes that provide many services like water and sewage are buried underground and can be damaged by tree roots.
"We've learned over the years," he said. "We have to identify if there are any services running underground and then we have to change the location of our trees."
Still, the campaign is changing the traditional bleak streets of the township. Viewing Soweto from a high point today, you can see patches of greenery and parks filling the horizon.
At the Orlando Children's home, they are planting trees for the future. The children gather in a circle and sing before reciting The Tree Pledge handed out by Moloi and his staff.
"I promise to take care of you and not to hurt you," they tell the young saplings. "You will always remain a friend to us. I will harm you not!"
Then they each take turns to help put down a little soil. Soon, though, there is an excited scramble as they all fall on hands and knees to pat the earth down firmly and make sure the new trees start life with solid roots.
FOLLOW THIS TOPIC