Sudan peacekeepers probe Darfur clash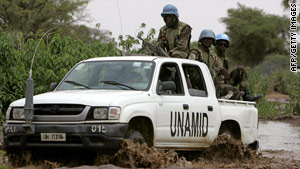 A UNAMID convoy near Nyala in 2009.
STORY HIGHLIGHTS
There are conflicting accounts of a firefight this week in South Darfur
The government and a rebel group both claim victory
It is raising concern about further conflict in the restive region
Nairobi, Kenya (CNN) -- A battle between rebels and government forces in Sudan's South Darfur is raising concern about further conflict in the restive region.
The government and the rebel Justice and Equality Movement (JEM) give conflicting accounts of a firefight that happened Wednesday morning at a village called Khor Ta'an.
On its website, Sudan's Interior Ministry said JEM attacked a caravan carrying goods and fuel on the road between De'ain and Nyala in South Darfur state.
"The army and central police reserve was able to reject an attack by the renegade group," the Interior Ministry said. "They were able to destroy the group and killed many, though members of the central police reserve were martyred."
JEM gave a very different account, saying that government troops in "70 vehicles" attacked them on the government road.
"Our forces taught the attacking force a good lesson and were able destroy them and kill scores and gain vehicles and weaponry," the rebels said.
UNAMID, the hybrid African Union and United Nations force in the region, told CNN it was sending a team to the area to establish what happened.
"UNAMID is concerned about the heightened military tensions on the ground and calls on all the parties to refrain from the use of force," it said in a statement.
The long-running conflict between rebels and government-backed militia has claimed as many as 300,000 lives and caused mass displacement, according to UNAMID.
Lately, the UNAMID force of more than 20,000 and painstaking peace negotiations have led to hopes of a lasting peace in the region.
In the wake of the attack, however, JEM was highly critical of the latest Darfur peace strategy.
"It is, in fact, a strategy of war," it said.
Journalist Ismail Kushkush contributed to this report.