Seashells for cutlery at South African beach restaurant
STORY HIGHLIGHTS
Die Strandloper restaurant is right on the beach on South Africa's West Coast
Its roof is made of tattered fishing nets
Diners eat traditional recipes using mussel shells instead of cutlery
Langebaan, South Africa (CNN) -- There's no cutlery at Die Strandloper fish restaurant: Diners use the mussel shells from the first course to eat the rest of their meal.
That sets the tone for the laid-back atmosphere at this beach restaurant, hidden under a tangle of tattered fishing nets perched on driftwood, an hour from Cape Town, in South Africa.
Die Strandloper was opened nearly 20 years ago by Zimbabwean Chris Maltby and has became one of the region's best-known seafood restaurants.
The dress code is strictly casual -- and preferably barefoot.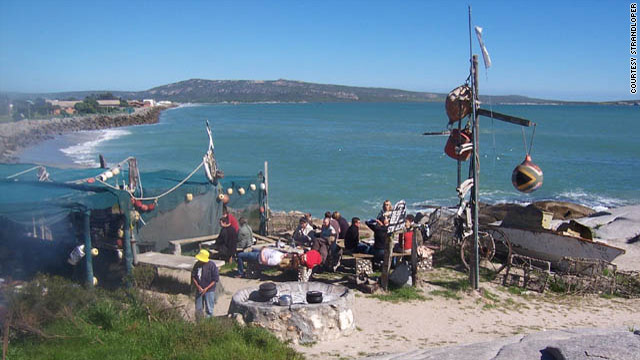 Gallery: South African seafood restaurant
"We say barefoot in the sand, taste buds in high heaven," Maltby told CNN. "If you come in high heels and jackets you won't get past the car park.
"It's very casual, very laid back."
Diners get 10 courses, with the fish caught locally and freshly cooked to regional recipes.
"It is cooked in front of you. You cook and eat, have a glass of wine, cook and eat, it goes on. It's nice," said Maltby.
"You get three things: the ambiance, the guests and the food. If you get all three right, you have a formula."
If you come in high heels and jackets you won't get past the car park.
--Chris Maltby
The restaurant says it provides a living for 100 local families: fishermen and those cooking to recipes that have been in their families for generations.
"One of our main objectives is to put money into the local economy," said Maltby.
"All the fish is caught and cooked by the local people, churning back into local economy.
"At the moment, we're sponsoring 100 families, from one family 19 years ago. So it's creating employment, money going in and out."
Elaine Blaauw, one of the chefs, prepares dishes including mussels steamed with wine and onions, and seafood paella. She cooks "snoek" (a large fish common in southern Africa) with a traditional sauce of lemon juice, apricot jam and fish paste.
The set menu is 190 Rand ($27) -- expensive by South Africa standards, but reasonable for most tourists.
"We think it's a good deal," said Maltby.
"You can bring your own drinks, there's no corkage, or you can use the beach bar. You know exactly what it's going to cost at the end of the afternoon."
FOLLOW THIS TOPIC