Web message says al Qaeda affiliate claims abduction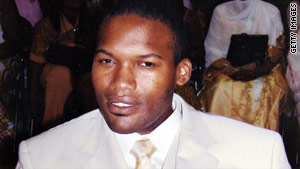 This 2007 picture shows Thierry Dole, one of five French nationals kidnapped in Niger.
STORY HIGHLIGHTS
Claim is purportedly from al Qaeda in Mahgreb
The group will issue "lawful demands"
France is geared up to deal with the problem
(CNN) -- An al Qaeda claim of responsibility for the kidnapping of five French nationals in Niger has surfaced on Islamist websites.
The message, purportedly from al Qaeda in Mahgreb, said it kidnapped five French nuclear experts who worked for Areva, the French nuclear reactor builder in the Arlit area in Niger last Wednesday. The message said the abduction was a follow up to a warning that its leader issued to France.
"Despite the high military preparations in the area and the security belt around it, those lions of Islam were able to break in and kidnap five nuclear experts who work for Areva," the message said.
"So we claim our responsibility to this blessed operation and we tell the French government that our fighters will deliver their lawful demands to them."
Al Qaeda in Mahgreb is the al Qaeda terror movement's affiliate in North Africa.
President Nicolas Sarkozy said Wednesday that France plans to "mobilize all of its state agencies" to free the people, his spokesman reported.
"The president considers this a very serious affair," spokesman Luc Chatel told reporters.
The message noted that the Niger region "is one of the world's most important uranium producing areas" and that France has stolen the "strategic resource for decades."
"We want to remind our Muslim brothers and public opinion that the uranium thieves caused the killing of thousands of poor Muslims in the area and abusing them in those mines and exposing them to dangerous radiation from radon gas while denying them any protection or health care," the message said.
"The crusaders' companies who steal our resources and abuse our sons should know that the fighters' goals are lawful and they must leave.
The message was posted on Islamists websites that have carried messages from al Qaeda in the Mahgreb in the past. CNN was not able to verify the authenticity of the message.
FOLLOW THIS TOPIC