STORY HIGHLIGHTS
Somalia's weak, poorly paid government forces are the key to any lasting peace

Teenage soldier Abdullah fights for them against al Qaeda-linked militants in Mogadishu

He says: Tonight there will be war and tomorrow there will be more fighting

The battle against Al Shabaab is one of the front lines in the war on terror

Somalia is one of the most dangerous countries in the world to cover as a journalist. Often news organizations rely on the courage of local freelancers to send pictures and stories to the outside world. In this exclusive report for CNN, journalist Jane Ferguson went to Somalia to examine the bloody struggle for power in a nation with strategic importance for the whole of east Africa.
Mogadishu, Somalia (CNN) -- Abdullah cannot be much more than 16 years old, but he is charged with fighting an al-Qaeda-linked group.
Leaning over a gun position on top of a crumbling house on the outskirts of Mogadishu, Somalia's battered capital, he is almost completely surrounded by insurgent positions, save one road which leads to a well-armed peacekeepers' base.
The base is in the compound of Mogadishu's destroyed university -- a place, had war not gripped his country, may have helped shape a brighter future for Abdullah.
The allegiance of the armed groups roaming Somalia's war-wracked capital can be confusing. Some are grouped together militias that have risen over the years as clan, religion and politics shaped this current conflict.
Abdullah and his friends are soldiers for Somalia's weak Transitional Federal Government (TFG) and it is they who hold the key to any lasting peace for the country -- but they are at a disadvantage - say many - because they are among the weakest of all of the factions.
African Union (AU) peacekeepers from Uganda and Burundi protect the section of the city that the U.N.-backed government controls. Without them holding positions just behind the TFG troops, it is unlikely Abdullah and his friends would survive at all.

Video: Somalia's uncertain peace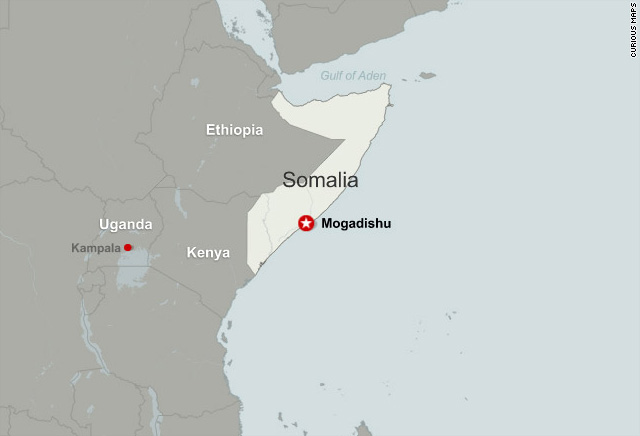 Somalia conflict
The AU are both well-armed and well-organized -- a clear contrast to government forces here who lack everything an army needs from wages to munitions to uniforms and even food.
Abdullah remains somber when I ask him why he is fighting Al Shabaab -- the militia which is linked to al Qaeda. It controls most of central and southern Somalia as well as Mogadishu, and in what would be its first attack outside Somalia, the group claimed responsibility for bombings in Uganda that killed more than 70 people this summer as they watched the World Cup soccer final.
"We have problems with them because they do not want the government," he says. "Every day there is war. Tonight there will be war and tomorrow there will be more fighting."
His Commander, Colonel Agey, an almost elderly figure looks physically and emotionally exhausted from 20 years of fighting. After slowly climbing a make-shift ladder onto the roof to join us, we relocate downstairs as the wind drowns out his frail voice.
Agey qualifies reports which have been filtering out of the city this summer that increased fighting has inflicted massive causalities on government troops. So far this year, he has lost 74 soldiers and had 145 casualties at this outpost. He says he has more than 100 soldiers here at any one time, but on my visit I counted fewer than 30.
His men have not been paid for five months, he says. When they do get paid, it is around $3 a day.
This has caused new recruits to dry up. Add to that the deaths of soldiers, and Agey slowly nods his head when I ask if the TFG army is therefore shrinking.
"Yes, we know the problem - we need to fill the gap of the other soldiers," he says. "We need to recruit to increase us. The problem is the soldiers do not have enough salary, have not enough food, have not enough munitions. We know that but we are waiting to solve that."
The poor conditions have led an unknown number of government troops to defect to Al Shabaab, or simply sell their guns and run. At this outpost, both soldiers and their families sleep on the floor between a few parked vehicles.
These soldiers are however much more relevant to Western security than it may appear.
There have been increasing reports of foreign fighters moving to Somalia from Yemen, Afghanistan, Iraq and even Europe and North America since Al Shabaab announced its affiliation with al Qaeda.
As a failed state under the control of jihadist groups, Somalia is feared to be an attractive safe haven for Islamist terror cells.
The TFG troops are in many ways on the front line of the war on terror.
Western governments do fund TFG forces, usually in indirect ways and through third parties. From March 2009 to March 2010 the U.S. government provided $2 million in cash and $12 million in further financial assistance, according to the State Department. More than $185 million has been provided by other Western donors and EU-funded training for the troops is hosted in bordering countries.
But the money rarely makes it into the hands of everyday soldiers in Mogadishu. Corruption is often blamed for aid not reaching the neediest in Somalia. A March 2010 report by the U.N. Security Council slammed the Somali government, saying as much as half of all food aid entering the country was diverted to corrupt government contractors.
Western funding of the TFG remains a controversial issue. With fighters defecting to the insurgents, an argument can be made that the U.S. government risks arming and paying potential Jihadists.
Even if they don't defect, trust of the TFG could be suspect. The President, Sheikh Sharif Sheikh Ahmed, was once a member of the Union of Islamic Courts, members of which included militant and radical individuals who eventually formed Al Shabaab. Although the president is considered a moderate, any future administration's dedication to eradicating Islamist factions is not certain.
However, if Somalia's weak government is not backed and funded to enable it to rule, the observers believe the country will continue to harbor international terrorists.
Under the current blanket of protection by the African Union forces, these troops can hold a small area of the city. If the country is to have a realistic future of peace without al Qaeda, it is crucial that they are eventually able to stand alone.
FOLLOW THIS TOPIC