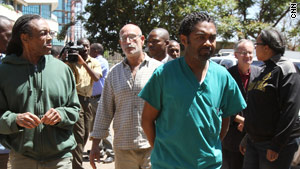 From left: Gregory Miller, Anthony Jones, David Greenberg and Gloria Cox-Crowell head to court in Harare.
STORY HIGHLIGHTS
Medics are accused of dispensing AIDS medication without a license
Their lawyer says they are innocent and should be praised for their work
There's been a misunderstanding, an American minister says
Their Oakland, California, church has done mission work there since 2000
(CNN) -- Six medical workers, including four Americans, appeared in court in Zimbabwe on Monday, accused of dispensing AIDS medication without a license, their lawyer told CNN.
They were released on bail worth about $200, and are tentatively due back in court September 27, said the lawyer, Jonathan Samukange. If the paperwork is completed fast enough, though, they could be back in court sooner, he said.
They have had to surrender their passports, he added.
The four U.S. citizens are part of the Allen Temple Baptist Church AIDS Ministry based in Oakland, California.
They were arrested Thursday on suspicion of distributing antiretroviral drugs without a license, the U.S. Embassy said.
One doctor from New Zealand and one from Zimbabwe also were arrested.
The group has denied all charges.
"These Americans come from a Baptist organization, actually an African-American institution. They came to Zimbabwe to assist Africans who are infected with AIDS," Samukange said.
"In [the town of] Mutoko, they have a huge orphanage that caters to these poor orphans. They look after them, clothe them and feed them. They send the ones that can to school. Before they came in, the children were dying on a daily basis," he said.
"They shouldn't have been arrested at all," he said. "They should have been encouraged for the work they were doing. Just in the past two weeks, they treated over 2,000 people. These people can now look forward to living a long and happy life."
They were treated "with the utmost respect while in jail," he said. "Their health is good."
The Oakland church said the arrests stem from "some kind of miscommunication" and said before the court appearance that it was hopeful they would be released Monday and allowed to return home.
"We went on a mission of love, and hope it can be cleared up Monday," said the Rev. Theophous Reagans, minister of global missions, adding that the team has nothing to do with the licensing of facilities.
The embassy said its consular officers are in close contact with the group.
The group includes at least one doctor, two nurses and a community volunteer, the embassy said.
The group operated from two clinics, one in Mutoko and one in the capital, Harare, where they worked primarily with AIDS orphans and HIV-positive patients for the past decade, the embassy said.
"We've always had a good relationship with authorities and people," Reagans said.
The group was held in a Harare jail Sunday, Reagans said. "People [in the area] indicated they are in good spirits" and have food and water, he said.
Since 2000, Allen Temple has sent its members to Zimbabwe three times a year to treat AIDS patients and dispense medications. The largely African-American church feels "a connection to the people on the African continent," Reagans said.
He identified the four Allen Temple volunteers as Dr. Anthony Jones, nurses David Greenberg and Gregory Miller, and Allen Temple Baptist Church AIDS Ministry administrator Gloria Cox-Crowell.
They were working with two other doctors. Their lawyer identified them as Reid Andrew Cheyne of New Zealand and Tembinkosi Ncomanzi of Zimbabwe.
CNN's Phil Gast and Mitra Mobasherat contributed to this report.
FOLLOW THIS TOPIC