UN: 24 dead, 70,000 homeless in Chad flooding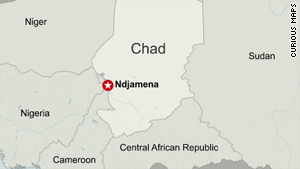 STORY HIGHLIGHTS
Another 46 people are dead from cholera
Overall, nearly 145,000 people are affected by flooding
The affected areas were hit by drought last year
Editor's note: Has the flooding in Chad affected you? Share your photos, video and stories with CNN iReport.
(CNN) -- Some 70,000 people have been left homeless by flooding triggered by heavy rains in the central African nation of Chad, the U.N. Office for the Coordination of Humanitarian Affairs said Sunday.
Twenty-four people have been killed and 29 others injured, said Ute Kollies, head of the office's branch in Chad. Forty-six others have died from cholera that broke out in the wake of the floods. Some 700 people are suffering from cholera, she said.
Overall, nearly 145,000 people in Chad have been affected by the flooding, and that number is rising, she said.
"Today is the worst, and it's getting more and more out of hand," she said. "This is the crisis point, at the moment."
Flooding has affected more than half of Chad's regions, she said. The same regions were hit by extreme drought last year. About 31,500 hectares (77,000 acres) of crops have been destroyed.
About 6,000 people have been displaced, Kollies said. They have moved in with family or sought shelter in schools and open areas.
Most roads are closed in the affected areas, meaning aid has to be airlifted, Kollies said.
Chad's rainy season typically stretches from June through the end of September, but it began earlier than usual this year. Rains were very heavy from the beginning, she said.
CNN's Mitra Mobasherat contributed to this report.
FOLLOW THIS TOPIC