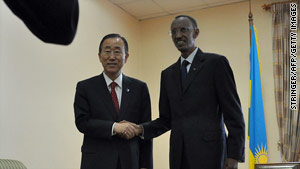 U.N. Secretary General Ban Ki-moon, left, shakes hands with Rwandan President Paul Kagame on Wednesday.
STORY HIGHLIGHTS
NEW: Ban met Wednesday with Rwandan president
Topics included a U.N. draft report alleging the massacre of ethnic Hutus in Congo
A defiant Rwanda has called the report malicious and ridiculous
Kigali, Rwanda (CNN) -- Rwandan President Paul Kagame met Wednesday with visiting U.N. Secretary-General Ban Ki-moon after Rwanda protested a leaked draft U.N. report that accuses troops from the central African nation of widespread violations of human rights.
The draft report alleges that the Rwandan military and an allied rebel group massacred ethnic Hutus in neighboring Democratic Republic of the Congo between 1993 and 2003.
"Tens of thousands of Hutu civilians were slaughtered with knives, bludgeoned with hammers and burned alive as the Rwandan army and the Allied Democratic Liberation Forces swept across Congo -- then called Zaire -- leading to the toppling of dictator Mobutu Sese Seko," the draft report says.
The draft report, which was leaked late last month, was commissioned by the Office of the U.N. High Commissioner for Human Rights. The United Nations has said the final report will be made public next month.
Rwanda has rejected the draft and has instructed its peacekeeping forces to be on standby for a pullout from Darfur, Sudan, should the United Nations publish the report without changing it.
Ban expressed disappointment over the leaking of the draft, referred to as a mapping report. He arrived in Kigali, Rwanda, on Tuesday accompanied by top officials, including his special envoy to Congo, Roger Meece, and U.N. peacekeeping chief Alain Le Roy.
Speaking to reporters after meeting Wednesday with the president and government officials, Ban said they had "discussed in depth these issues and I have listened very carefully to their serious concerns on this mapping report. We have agreed to continue our dialogue on all these issues when President Kagame visits New York later this month. This is an important part of the dialogue the United Nations has with the concerned countries and it will certainly continue."
Minister of Foreign Affairs Louise Mushikiwabo expressed gratitude to Ban for his visit. "We are very happy that the secretary-general of the U.N. thought it important to come to Kigali and sit with us," she said.
"We want to make sure that our concerns are not ignored. Rwandans have rejected the leaked report, which we have found to be malicious and irresponsible, and we will not allow unfounded accusations to undermine the hard-earned peace and stability in our country and our region. We will never accept that the Rwanda Defense Forces be accused of crimes they are not guilty of, and that is the bottom line."
Last weekend, nine African heads of state gathered in Kigali to observe Kagame's inauguration to a second seven-year term.
"I wished him continued success and leadership," Ban said.
He also praised Rwandan forces as "well trained," "highly disciplined" and "widely respected for their great contribution for peace and security in the region."
And he said he had urged Kagame "to continue such noble contribution around the world, particularly when we are going to see two referenda in Sudan in January next year."
Prior to Ban's arrival, government spokesman Ben Rutsinga lashed out at the accusations against the Rwandan forces. "It is immoral and unacceptable that the United Nations, an organization that failed outright to prevent genocide in Rwanda and the subsequent refugees crisis that is the direct cause for so much suffering in Congo and Rwanda, now accuses the army that stopped the genocide of committing atrocities in the Democratic Republic of Congo," he said.
Rwanda said the report's allegations are based on questionable methodology and sourcing.
"Given the gravity of its mission, the Mapping Team's failure to consult with Rwanda even though they found time to meet with over 200 [nongovernmental] representatives is shocking and shows complete disregard for fundamental fairness," Rutsinga said.
More than 1 million Rwandans -- most of them Hutu -- fled to neighboring eastern Congo when the Rwandan genocide ended in 1994.
In 1996, Rwanda invaded Congo in pursuit of the genocide orchestrators, who were living amid hundreds of thousands of other refugees.
The stated goal of Rwanda during that time was to end the refugee crisis in eastern Congo. But the United Nations draft report says that the Rwandan military did not discriminate between fugitives and refugees, nor did it discriminate by age or gender.
It adds, "The majority of the victims were children, women, elderly people and the sick, who posed no threat to the attacking forces."
Most of the incidents indicate that the Hutus were targeted, the draft report says.
"The numerous attacks against the Hutus in Zaire, who were not part of the refugees, seem to confirm that it was all Hutus, as such."
Although independent researchers have documented the crimes against humanity committed by the Rwandan government, the United Nations report is the most official and forthcoming accusation made so far.
Journalist Raymond Kalisa contributed to this report from Kigali.
FOLLOW THIS TOPIC