Mozambique announces subsidy after price hikes sparked deadly riots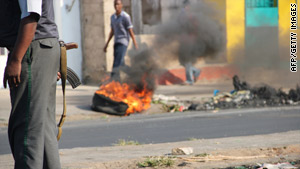 Rioters burn tires in Maputo, Mozambique, on September 2, 2010.
STORY HIGHLIGHTS
Mozambique's currency has declined, and prices have risen
Price hikes sparked deadly riots and protests last week
A government official announced a subsidy program to offset the hikes
"This is what they should have done last week," says one citizen
(CNN) -- In the aftermath of riots that killed 13 people and left over 400 injured, the Mozambican government announced Tuesday that it would implement a price subsidy program to offset price hikes on virtually all basic necessities including bread, water and energy.
This announcement came just days after price hikes went into effect, sparking the deadly riots.
"The prices continue to rise while our salaries remain the same," said Inocencio Juliao, a public school teacher. " I can hardly make ends meet as it is, now they want to raise the costs of energy, water and bread. We (Mozambicans) have had enough."
Aiuba Cuereneia, minister of planning and development for the southern African nation, announced the subsidy program in a nationally televised speech aimed at calming the unrest that has gripped Mozambique since protests began last week.
Mozambique, one of the world's poorest countries, has recently felt the crunch of the world's financial crisis. Its currency, the metical, has declined against the rand of South Africa, where most of Mozambique's imported goods come from.
The hope of the Mozambican government was that the riots and protests would be short-lived, as has other public reaction to such situations in recent years. But before the subsidy program was announced, the feeling in much of the country was that riots could erupt again at any moment.
Several text messages were sent in mass in recent days to thousands of Mozambicans proclaiming anti-government sentiments and encouraging the continuation of riots. One such message stated "The riots continue until the government answers our demands."
As of Monday evening it was no longer possible to send text messages in the country. The Mozambican government denied having anything to do with this "technical malfunction."
The immediate reaction to the government's subsidy announcement was being seen by many as a victory. "We've won, this is what they (the government) should have done last week" said Fatima Maria, a mother of three.
Tuesday was a national holiday in Mozambique, celebrating the signing of an agreement in 1974 that marked the end of Mozambique's status as a Portuguese colony.
Journalist Shaun Bissett contributed to this report.