STORY HIGHLIGHTS
Jonathan Butler was the first black musician played on white radio stations during apartheid
A teenage sensation, he had his first big hit in South Africa at the age 12
His music spread internationally, earning him gold records and Grammy nominations
The soulful singer says he's proud of the changes that have taken place in his country
Every week CNN's African Voices highlights Africa's most engaging personalities, exploring the lives and passions of people who rarely open themselves up to the camera. This week we profile South African singer and songwriter Jonathan Butler, the first black artist to be played on white radio stations during apartheid.

Watch the show on Saturdays 1130 and 1830 GMT, Sundays 1700 GMT and Monday 1130 and 1630 GMT.

Long Beach, California (CNN) -- When singer-songwriter and guitarist Jonathan Butler took the stage at Southern California's Long Beach Jazz Festival, the smooth, sunny music poured out as if he could no longer contain it.
"You've got to believe," he convincingly sang with his audience swaying. I immediately recalled Butler earlier telling me, "I need to hit the road. I really miss playing."
Watching him on stage, Butler appears to have been born with music in his soul. "I love music," he says, "I loved music before I liked girls. And I still love music."
Butler got his start more than four decades ago in a South Africa still under apartheid. At the time he was a child, living in a shanty-town with 11 brothers and sisters and going to bed hungry.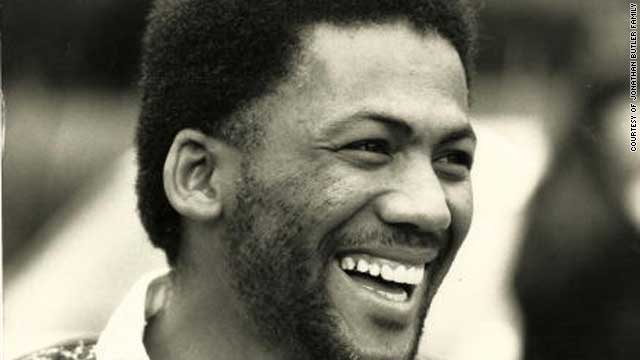 Gallery: Jonathan Butler
But he says there was one blessing, what he calls the Butler family gift. "People knew the Butlers as entertainers," he says.
He started playing at carnivals and packed city halls . At age 12, he rocketed to number two on South Africa's pop charts. "I'm the first black person on white radio and the thing just exploded," he told CNN, "I couldn't go down the street without being recognized you know."
Butler also soon became the first black musician to win South Africa's equivalent of a Grammy. At the time, he says he didn't recognize the importance of the firsts. "Somehow you carry a responsibility to continue to forge forward. I had no idea being 12 years old... no idea what that meant I was just so happy to take care of my mom and my dad."

Video: Overcoming addiction

Video: Butler: Music was my first love
But Butler says his political consciousness and disillusionment with life under apartheid grew quickly. "I'm still living in a shack and I have to not use the restroom in the Grammy building. I had to use the restroom that said colored or black. So you couldn't help but be shaped by this."
He says as a teenager he also struggled with career pressures. On the road, he turned to drugs and alcohol, before becoming a Christian and starting a new life with his wife of nearly 30 years, Baranese.
When the young couple moved to England, his career re-energized and Butler went on to make gold records. But in the midst of his ascent, Butler also made a painful vow to not play in apartheid South Africa and upheld it for more than a decade.
"Growing up just sickened me having to play for blacks one night and whites another," he says, "I only wanted to go home if I could perform for everybody in the same room."
I only wanted to go home if I could perform for everybody in the same room.
--Jonathan Butler
Today, Butler tours South Africa often and is proud of the changes taking place in his country. He says his music will always resonate with the beauty of where it was born, "I feel like Africa doesn't have minor chords. African style and music always has an uplifting joyful sound to it."
Wherever Butler performs, his close-knit family is usually nearby, including his two daughters who are singers and often perform too. Audiences flock to hear Butler's calming, feel-good music, "I made a conscious decision when I was younger to celebrate life. I came from a poor family... I could always use music to escape."
Butler says his music continues to evolve with a gospel influence and what he calls the ultimate message of hope. "I see it more as ministry. That my job is preaching the gospel, bringing good news to people."
FOLLOW THIS TOPIC