Nigerian president may run for re-election, ruling party says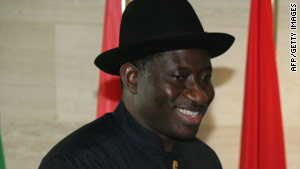 Goodluck Jonathan has not said himself whether he will run but is widely expected to take part.
STORY HIGHLIGHTS
Ruling party clears way for Jonathan to run for re-election
Nigeria has "zoning" rules that call for shift in power
He has not said if he will participate
Lagos, Nigeria (CNN) -- Nigeria's ruling party has decided that President Goodluck Jonathan may run for re-election next year, resolving the outstanding question of his eligibility.
Under Nigerian "zoning" rules, power must shift to different regions and ethnic groups every eight years.
Jonathan -- who is from the Niger Delta, in the south -- was part of the joint ticket of the late President Musa Yar'Adua, who was from the north.
Yar'Adua's death in May, after a long illness, upset the order of the zoning. Yar'Adua was elected in 2007 and his southern replacement threatened to halt the north's turn at holding power.
The decision by the ruling Peoples Democratic Party on Thursday resolved the issue by allowing Jonathan to run in an open race with other candidates.
Jonathan has not said whether he will run but is widely expected to take part.
FOLLOW THIS TOPIC