Naval authorities: Pirates hijack cargo ship in dangerous Gulf of Aden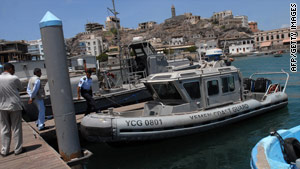 The port of Aden in Yemen is an important city on the Gulf of Aden, which is plagued by pirate attacks.
STORY HIGHLIGHTS
Somali piracy has exploded since 2004 - 2005
Distress call reported pirates boarding and firing on crew
The ship reversed course toward the Horn of Africa
Gulf of Aden is important shipping route and is plagued by pirates
(CNN) -- A distress call from a cargo ship in the Gulf of Aden reported pirates firing upon the ship and boarding it Thursday afternoon, the European Naval Force Somalia -- Operation Atalanta said in a statement.
Upon receiving word of the attack from the ship, the force dispatched helicopters to the MV Syria Star. They found an abandoned skiff containing fuel and ammunition near the cargo ship, the statement said.
By the time warships arrived, the Syria Star -- carrying a cargo of sugar -- had reversed course and was heading southeast toward the Horn of Africa under the control of the pirates, who did not respond to radio contact.
The ship is flagged to St. Vincent and the Grenadines and has a crew of 22 Syrians and two Egyptians.
The primary tasks of EU NAVFOR Somalia are to escort merchant vessels carrying humanitarian aid, and to protect vulnerable ships in the Gulf of Aden and Indian Ocean from pirate attacks.
Up to 95 percent of European Union trade is shipped by sea, with 20 percent of that passing through the Gulf of Aden, according to EU NAVFOR. Owners of hijacked ships typically pay ransoms to pirates and, except in rare cases, crews have been released unharmed.
"Piracy exploded in 2004-2005, putting Somalia on the international maritime security map for the first time," according to a study by the Norwegian Institute for Urban and Regional Research. The practice declined in 2006, only to explode again in 2008, it said.

FOLLOW THIS TOPIC