STORY HIGHLIGHTS
17 African countries mark 50 years of independence this year
American Omekongo Dibinga filmed his parents speaking about independence in the Congo
What are your thoughts on 50 years of independence in your country? What are your hopes its future? Let us know
Editor's note: This year 17 African countries celebrate 50 years of independence, eight of them in August. CNN.com is marking this major milestone with special coverage looking at the continent's past, present and future. We are asking you to share your memories of independence and your hopes for your country's future. Read one iReporter's compelling story below.
London, England (CNN) -- Omekongo Dibinga is an American, living in Washington D.C., and both his parents, who now live in Boston, are originally from the Democratic Republic of the Congo.
Dibinga decided to record his parents sharing their memories of Congo's independence, and their views on the country today after reading CNN's iReport request for videos about African independence.
His mother, Dr. Ngolela wa Kabongo, spoke about how her initial excitement at Congo's (then known as Zaire) independence on June 30, 1960, quickly turned to disillusionment.
"I was very happy that we were free, that we were going to have our own leaders, the leaders we chose ourselves, the leaders who looked like us," she said.

Video: Remembering independence
"It was very exciting -- but the excitement didn't last long. A few months later people started killing each other."
Shortly after Congo announced its independence the province of Katanga, in southern Congo, attempted to secede.
Kabongo, who was living in Katanga at the time, said that because she was originally from another province, people in Katanga treated her as the enemy.
"People from Katanga area didn't want to see us there, so they started killing our people, telling them to go back where they came from.
"My father was a Methodist pastor. He was preaching one Sunday and he was taken from the church because the Katangese didn't like his sermon; they said they were going to kill him.
Share your African independence stories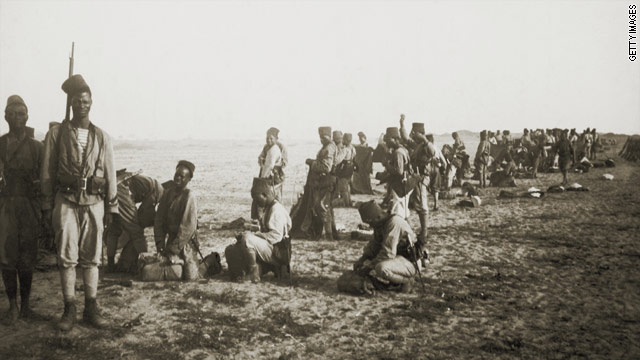 Gallery: Africa's independence
"He was saying we have to love each other, we are one and we have to stand up for the nation. They didn't want to hear anybody talking about unity because they wanted to separate Katanga from the whole country."
Fortunately, Kabongo's father was not killed, but many in Katanga, including Dibinga's father, Reverend Dr. Dibinga wa Said, ended up in refugee camps.
Kabongo has been back to DR Congo since, but said she is not impressed with the country's infrastructure, or the way young people are forgetting their cultural roots.
But although she said Congo has many problems, Kabongo believes things can improve in the future.
"I still think we have a chance to do things if we want to do them, if we begin thinking about the community as a whole," she said.
[My father] was saying we have to love each other, we are one and we have to stand up for the nation.
--Dr. Ngolela wa Kabongo - via iReport
"We have an African saying, 'I am because you are' -- I am because my community is. So I think we have to begin developing our own community; we have to begin taking care of our children.
"I still think we can do better if we begin thinking about our country."
For Dibinga, interviewing his parents about their country's independence was a learning experience.
"I knew my parents had problems in Congo leading up to independence as well as after, but I didn't know that the actual independence period was marked by such turmoil for them," he said.
What are your thoughts on your country's independence? We would like to hear from you if you're from one of the 17 countries marking 50 years of independence this year: Benin, Burkina Faso, Cameroon, Central African Republic, Chad, Congo (Brazzaville), Cote D'Ivoire (Ivory Coast), DR Congo (formerly Zaire), Gabon, Madagascar, Mali, Niger, Nigeria, Mauritania, Senegal, Somalia, and Togo.
Let us know what has changed in the past 50 years and share your hopes and vision for your country's future. Why not interview any friends and family who may have witnessed the handover of power from colonial rule.
And if you have any images of that time in your family album, upload them and share with us at CNN iReport.
The best images and videos will be featured on CNN's "Inside Africa" show and as part of CNN's Africa 50 coverage.
FOLLOW THIS TOPIC