Kenya's Prime Minister likely won't commit troops to AU force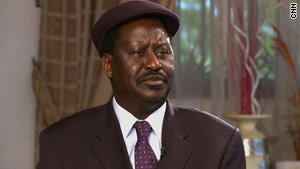 Kenya's PM Raila Odinga is keeping his options open regarding sending troops to Somalia.
STORY HIGHLIGHTS
Kenya's Prime Minister talks to CNN about possible African Union troop-commitments
Raila Odinga fears Kenyan troops in AU force could be seen as an "invasion"
Odinga cites previous Islamist threats, refuses to rule out "self-defense"
Nairobi, Kenya (CNN) -- Kenya's Prime Minister says his country probably won't commit troops to an expanded African Union force for Somalia, but he's leaving the door open to "review."
Raila Odinga told CNN that, because of Kenya's shared border with Somalia, deployment of troops there has been generally ruled out, even as part of an African Union force. The presence of Kenyan troops could be seen as an invasion, according to prime minister.
But Odinga added that, once other African countries announce their commitments to an expanded AU force force for Somalia, Kenya might review its own position.
Leaders at the recent African Union summit in Uganda called for an expanded AU troop presence in Somalia. They said the Somali crisis had created fertile ground for threats to peace across the region.
Odinga also discussed the threat posed in Kenya by the Somali militant group of Islamist militants, al Shabaab. He said the al Qaida-linked group has already threatened to come to Kenya. Odinga pointed out that they have mounted cross-border raids into his country, one within the past few days that wounded two soldiers. The prime minister said "self-defense" could not be ruled out if these activities continued.
Al-Shabaab claimed responsibility for a suicide attack in Uganda two weeks ago that left 76 people dead. The group said that attack was a response to Uganda's participation in the AU peacekeeping mission in Somalia.
CNN's David McKenzie contributed to this report
FOLLOW THIS TOPIC