Sentencing due in South Africa race case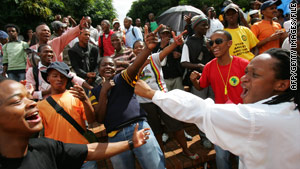 Students protest against a racist video in February 2008 in Bloemfontein, South Africa.
STORY HIGHLIGHTS
Sentencing of four white students is due Wednesday
The students pleaded guilty Tuesday to humiliating black workers
They shot a video that seemed to show them urinating in food
The food was later served to black workers at their dorm
Johannesburg, South Africa (CNN) -- Sentencing was due to take place Wednesday for four white former university students who pleaded guilty to humiliating black workers in a video.
The four former Free State University students, known as "the Reitz Four," pleaded guilty Tuesday.
The video appeared to show the students mixing beef stew, urinating in it, and serving it to housekeepers at their dorm.
It was shot in 2007 in reaction to university efforts to integrate its residences, school officials said. The campus was still divided into white and black dormitories almost two decades after the end of apartheid.
The video sparked national outcry when it surfaced in 2008.
Watch CNN's 2008 report on the video

Two of the students, Roelof Malherbe and Schalk van der Merwe, later said they had not actually tainted the food and that the video was edited to make it appear they had.
"The totally harmless liquid was squirted from a bottle," they said in a statement.
An investigation mandated by the government in 2008 painted "a shocking picture" of racism in higher education, said Ranjeni Munusamy, a spokesman for South Africa's Ministry of Higher Eductation.
FOLLOW THIS TOPIC