Group claims in video that it has executed French hostage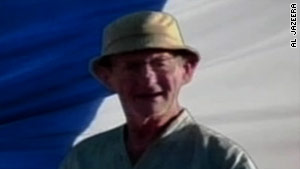 The video, showing Michel Germaneau's photo with an image of a French flag, aired on Al-Jazeera on Sunday.
STORY HIGHLIGHTS
The video was aired Sunday on TV network Al-Jazeera
A man claiming to be the terrorist group's chief says it executed Michel Germaneau on Saturday
CNN could not independently verify the video's authenticity
(CNN) -- A man claiming to be the chief of an al Qaeda-linked organization in the north African country of Mauritania claimed in a video Sunday that the terrorist group has executed a 78-year-old French hostage.
The video was aired Sunday on the TV network Al-Jazeera. Its authenticity could not immediately be confirmed by CNN.
French director Michel Germaneau was abducted in Niger on April 19. The video shows Germaneau's photo along with images of the French flag and al Qaeda in the Islamic Maghreb's black-and-white flag.
A man's voice -- identified by text on the screen as AQIM's chief, Abu Musab Abdul Wadud -- can be heard saying, in Arabic, "We announce that we've executed the French hostage called Michel Germaneau on Saturday, July 24, 2010, to avenge the killing of our six brothers in the cowardly French raid."
The man appears to be referring to an attack on the group last week that left six suspected al Qaeda militants dead. Four other members of AQIM escaped the operation led by the Mauritanian army near the border with Mali, Interior Minister Mohammed Ould Boilil said. The attack was prompted by intelligence that indicated the group was targeting a military base in Baskno.
The man in the video criticizes French President Nicolas Sarkozy for the operation, saying he "not only failed to free his fellow citizen in this failed operation, but without all doubts, (Sarkozy) opened one of the gates of hell for himself, his people and his country."
CNN's attempts to reach French officials Sunday night were not immediately successful. Sarkozy's office told the newspaper Le Monde that it had no confirmation of Germaneau's death and was seeking more information.
In the past, Al-Jazeera has aired similar videos from the group before they later surfaced on militant websites.
FOLLOW THIS TOPIC