Ugandan police arrest Rwandan genocide suspect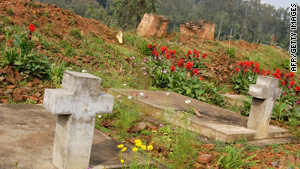 A mass grave in Rwanda marks the site where a church was bulldozed as part of the 1994 genocide.
STORY HIGHLIGHTS
Jean-Bosco Uwinkindi is wanted for the killings of Tutsis
About 800,000 people were slaughtered in 1994 genocide
Indictment says bodies were found near Uwinkindi's church
There was a $5 million reward on his head
Kampala, Uganda (CNN) -- A fugitive Rwandan clergyman wanted for his role in the 1994 genocide has been arrested in Uganda, a police spokesman told CNN Friday.
A 2001 indictment from the U.N.-backed International Criminal Tribunal for Rwanda alleges that Jean-Bosco Uwinkindi, now 59, led a group that sought out and killed Tutsis in the genocide. Some 800,000 Rwandans were slaughtered in 100 days, many of them brutally bludgeoned or sliced open with machetes.
The indictment says that about 2,000 bodies were found near Uwinkindi's church after he fled the country in July 1994.
Ugandan police spokeswoman Judith Nabakooba said Uwinkindi is being extradited to Arusha, Tanzania, where the tribunal is located.
Uwinkindi, a Pentecostal pastor with a $5 million reward on his head, was among 11 top genocide suspects at large and was picked up by Ugandan police in the town of Mbarara, Nabakooba said. He had crossed the border into Uganda from neighboring Democratic Republic of Congo, where other genocide suspects are thought to be in hiding.
Uganda's independent Daily Monitor newspaper reported Friday that Uwinkindi entered the country using the alias Jean Inshitu and was attempting to buy land and settle under that assumed name.
Journalists Samson Ntale in Kampala, Uganda, and Ignatius Ssuuna in Kigali, Rwanda, contributed to this report.
FOLLOW THIS TOPIC