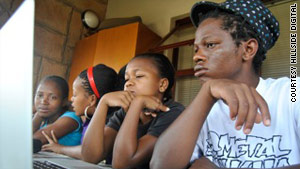 Siyakhona is a program that trains young, underprivileged South Africans in journalism.
STORY HIGHLIGHTS
The Siyakhona project is teaching dozens of young South Africans skills in journalism

Two centers have been established with 18 more planned

One photographer has opportunity to work alongside pros at World Cup match

Officials hope program will enable townships to have greater voice
(CNN) -- Azola Maliti is part of a group of young South Africans from the Khayelitsha township in Cape Town taking part in the Siyakhona project, which combines media training and soccer in programs for young people in Africa.
Soccer's international governing body, FIFA, and Sony International collaborated to create Siyakhona in 2009 as part of Football for Hope -- a 5-year-old movement that seeks to harness the power of soccer for social development (soccer is called football in most of the world).
Football for Hope is led by FIFA and streetfootballworld, a nonprofit that works with a network of organizations to do social development in Africa, says Mike Geddes, communications manager of streetfootballworld and project manager of the Siyakhona Project.
Football for Hope Centers implementing the Siyakhona project have been established in the South African townships of Khayelitsha and Alexandra and there are plans for at least 18 more centers throughout Africa, including in Ghana, Kenya, Lesotho, Mali, Namibia and Rwanda by 2012, according to streetfootballworld.
"It is our aim to train members of the various centers as photographers and video journalists, to give these disadvantaged communities a voice on an international platform so that the stories that they tell ... can't be ignored by local politicians, or NGOs, or foreign entities," said Danny Lurie, co-founder of Hillside Digital, a nonprofit media organization contracted to do some of the taining.
iReport.com: Watch one of the stories produced though the project
"Hillside Digital is focusing on social issues; and there are a lot of challenges in the Alexandra township: unemployment, poverty, crime. The program will enable the government to be able to know the issues and the problems that are in the community," said Ernest Ndlovu, chairman of the Greater Alexandra Development Forum.
It's time the townships got to tell their own stories and not to rely on foreign media
--Danny Lurie, co-founder of Hillside Digital
There's even a plan to establish a TV channel in Alexandra. "We're hoping that once Alex TV can be implemented, the Siyakhona project, where people are trained, are going to contribute enormously to its success," said Ndlovu.
But Siyakhona's leaders want it to last longer than just the World Cup.
"We wish to create 'hubs' of digital video in township communities that will produce community-focused films and raise awareness of social issues long after the 2010 FIFA World Cup," said Geddes.
Maliti, an avid photographer, will have the opportunity to be at one of the World Cup matches alongside professional photographers.
"He is so excited. If you talk to the participants, you would see it in their eyes. Their passion is unbelievable," Lurie said in a webcam interview.
"It's time the townships got to tell their own stories and not to rely on foreign media to tell their stories for them," said Lurie.
"I think the stories that you see coming up from these areas will be unique, of very high standard, and will give a true reflection of what life is really like in the township."
Dozens of Siyakhona members are now trained to use cameras and other social media tools and township residents can view the fruits of their labors at public viewing sessions.
"The great thing about film is that you don't need to be literate. Quite a few of the participants are living with AIDS and one [program] participant is an orphan. These participants come from the poorest areas and have really taken to the program very strongly," said Lurie.
"We hope not only to share the biggest problems that they're dealing with, but also stories that we can be very proud of coming out of the townships that we want to share with the world."
FOLLOW THIS TOPIC