Has granny invented a vuvuzela rival?
STORY HIGHLIGHTS
The vuvuzela has stirred controversy at the World Cup in South Africa
Nongenile Magquba, 72, says she has invented something far more sonorous
The imbhelempe is made from old spice bottles wrapped up in tape
Other women have started to copy her instrument, but Magquba says she is the expert
Kwamagquba, South Africa (CNN) -- The vuvuzela, the plastic trumpet blown by football fans at the World Cup, has blasted into stadiums in South Africa and television screens across the globe. Some love it, many hate it.
But 72-year-old Nongenile Magquba doesn't know much about the vuvuzela controversy. What she does know is that she invented a more sonorous competitor.
Magquba -- known as "Granny Maqquba," a Xhosa sign of respect -- lives in Kwamagquba, in the rural Eastern Cape. Fifteen years ago she invented what she calls the "imbhelempe," a wind instrument made from old spice bottles wrapped up in tape, and she did it to help her dying mother. In a region famed for its traditional healers Magquba said her imbhelempe was the best medicine.
"It helped her, it helped her," says Granny Magquba, "when she was sick I knelt down and prayed, then I took the ibhelempe and I played it and played it and she waved her hands in the air like this."
When her mother died she kept playing her homemade trumpet. She blows it at funerals, weddings and church services.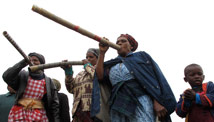 Gallery: The next vuvuzela?
Granny Magquba holds it to her mouth and blows rhythmically while she breaths in through her nose. She sways to the rhythm of the Xhosa Christian hymns as she accompanies the tiny Kwamaqguba church choir. The sound is almost like a didgeridoo, played by indigenous Australians. But it has the rhythm of Africa.
"It makes me feel better, the sound that it makes helps me feel happy inside," says Granny Magquba touching her heart. She adds that the word "ibhelempe" has no real meaning -- it simply sounds a lot like the noise that the instrument makes.
The World Cup has hardly touched this remote part of South Africa. Kwamagquba has no electricity and the women struggle to collect water by hand.
Granny Maqquba has heard the vuvuzela, says she likes it -- but has never seen one. The grannies of the area are excited because a local official have told them that they will soon start a granny soccer team.
But if you travel to this region in winter, when the clouds scrape the hills and the only sound is the howling wind, you might also hear another sound, the sound of Granny Maqguba's imbhelempe.
Other women have started to copy her instrument. But Granny Maqguba is proud of her invention.
"They don't blow it like me, I am the master of ibhelempe, they just blow it because they like it, but they don't blow it like me."
FOLLOW THIS TOPIC


Part of complete coverage on

Paul the octopus, who correctly predicted the outcome of eight World Cup matches in a row, is retiring from the forecasting business.

Who's tweeting about what? Follow the World Cup trends and all the latest action from South Africa.

Are you a fanatical supporter of your national football team? Do you like to shout about your opinions? Become a CNN Super Fan!

Let your friends know where you're watching the World Cup, and earn CNN badges while you're having fun.


Most popular stories right now