War crimes court steps toward seeking Naomi Campbell as witness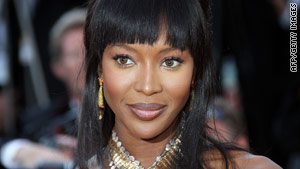 Prosecutors are seeking the testimony of Naomi Campbell at Charles Taylor's war crimes trial.
STORY HIGHLIGHTS
Prosecutors claim supermodel got "blood diamond" from Charles Taylor
They want her to testify but say she is not cooperating
Court allows prosecutors to reopen case
Taylor is on trial for fueling brutal war in Sierra Leone
(CNN) -- The war crimes tribunal trying former Liberian President Charles Taylor has taken a step toward requiring supermodel Naomi Campbell to testify, the court announced Wednesday.
Prosecutors last month asked the court to order her to testify about allegations she got a "blood diamond" from Taylor, and requested permission to reopen their case against him.
The court Tuesday granted the prosecution request, according to court documents posted online Wednesday.
It has not yet ruled on the subpoena for Campbell, but allowing prosecutors to reopen the case gives a hint as to which way it will decide, a court spokesman said.
The prosecution -- which rested in February of last year -- asked to reopen their case specifically to call Campbell, as well as actress Mia Farrow and a witness named Carole Taylor, court papers show.
The court did not say when it would rule on the request for a subpoena for Campbell. Farrow and Taylor have indicated they will testify voluntarily, court spokesman Peter Andersen told CNN.
But Campbell's testimony would be expected in July or August, he said, citing the court's schedule.
The tribunal does not have its own police, so it is not clear what power it would have to enforce a subpoena, Andersen said.
"I am hoping that we don't have to find out," he said.
The prosecution says Campbell received rough diamonds from Taylor, and claimed her testimony would prove that the former president "used rough diamonds for personal enrichment and arms purchases," according to papers filed with the U.N.-backed court.
Campbell has said she does not want to be involved in the case, prosecutors said, forcing them to ask the court to issue a subpoena ordering her to appear.
"Her anticipated evidence rebuts the accused's testimony that he never possessed rough diamonds," prosecutors said.
Prosecutors said they learned in June 2009 that Taylor had given the supermodel a diamond in South Africa in 1997. The actress Mia Farrow confirmed it, they said.
Taylor, 62, has been on trial for more than three years. He is accused of fueling a bloody civil war in Sierra Leone that led to widespread murder, rape and mutilation.
Rough diamonds, also known as "blood diamonds" or "conflict diamonds," were a key component of the war, both fueling it and being used as currency in it.