Blog: Meeting celebrity chef Marcus Samuelsson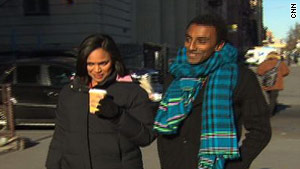 Marcus Samuelsson takes Stephanie Elam on a tour of his favorite food haunts in Harlem, New York.
New York (CNN) -- Ethiopian chef Marcus Samuelsson speaks several languages -- one of which is food. In the few hours we spent together, I saw his face light up more than once when he talked about blending flavors and creating different food journeys for the people who enjoy his cuisine.
It is as if he sees food as offering up endless combinations and it is his job to figure out which ones will work the best together. No doubt his global experience has enhanced his ability in the kitchen since Samuelsson is clearly comfortable among all kinds of people and in many different cities.
While we walked the streets of Harlem, New York, his chosen city, I got the impression that Samuelsson is still excited by the opportunities yet to be uncovered in the big city.
Despite being a world-renowned chef, he enjoys cuisine from not just high-end restaurants but also from the small cafes in his neighborhood. He took me to one in particular which he said had the best croissants in the city. (I must admit the one I had was pretty tasty!)
And while one might think that a man who was raised by adopted parents in Europe might not appreciate his African roots, that is not the case with Samuelsson.
What I found most interesting is the responsibility he feels to help expand the conversation about African food in America. For him, it is just a matter of exposure -- something most Americans haven't had when it comes to African cooking.
All in all, my impression of Samuelsson was that he is a driven yet approachable man, who is one of the lucky ones because he has found his calling in life.
And while he has already accomplished so much at 39-years-old, I wouldn't be surprised if his greatest accomplishments are still ahead of him.