Child is lone survivor in Libya plane crash
STORY HIGHLIGHTS
An 8-year-old Dutch boy suffers multiple broken bones but survives
Airbus A330-200 commercial flight crashes during landing at airport in Tripoli, Libya
92 passengers and 11 crew members were killed

(CNN) -- An 8-year-old boy who is a Dutch citizen is the sole survivor of a deadly plane crash in Libya, airline officials said Wednesday.
Afriqiyah Airways confirmed on its website late Wednesday that the other 92 passengers and 11 crew members were killed when the plane crashed while trying to land at the Tripoli International Airport.
The child, identified as Ruben van Assouw, suffered multiple fractures in his lower limbs and underwent an operation at Al Khadra Hospital in Tripoli, a doctor at the hospital said.
The boy has seen a Dutch Embassy representative and is sedated and asleep, she said.
iReport: Share images from the scene

Video: Plane crash at Tripoli Airport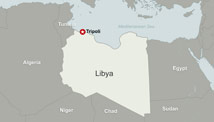 Location of plane crash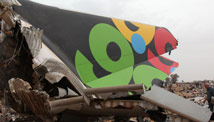 Recent crashes
The Dutch Foreign Ministry, which had a representative at the hospital waiting to identify the boy, declined to confirm the child's name.
The Afriqiyah Airways plane originated in Johannesburg, South Africa. Of those killed, 58 passengers were Dutch, six South African, two Libyan, two Austrian, one German, one French, one Zimbabwean and two British. Another 19 passengers' nationalities could not immediately be identified. The 11 crew members were all Libyan.
The plane, an Airbus A330-200, was at the end of its nearly nine-hour flight when it crashed at 6 a.m.
"We express our sincere regret and sadness on behalf of the airline. As well, we would like to express our condolences to the relatives and friends of those who had passengers on Flight 8U771 destined for Tripoli late last night, due to arrive around 6 o'clock this morning," said Nicky Knapp, a representative of the Airports Company South Africa. She was speaking on behalf of Afriqiyah Airways.
Jerzy Buzek, president of the European Parliament, said the child's survival, "given this tragic event, is truly a miracle."
At the crash site, workers with surgical masks combed through the smoldering wreckage, which spilled over a large area. A wheel lay atop a pile of bags. Two green airline seats sat upright and intact amid burned parts of the aircraft.
Officials recovered the plane's flight data recorder, which investigators use to piece together a flight's last minutes.
The Tripoli-based Afriqiyah (Arabic for "African") operates flights to four continents. The planes in the fleet carry the logo 9.9.99: the date when the African Union was formed.
The plane that crashed was one of three Airbus 330-200s that the airline owns.
CNN's Stephanie Halasz contributed to this report.