STORY HIGHLIGHTS
U.S. Commission on International Religious Freedom issues 11th annual report
More than 24 countries cited as having little freedom of religion
Some people are imprisoned for their religion, fired from jobs or kicked out of universities

The commission put other countries, including Afghanistan, Belarus, Cuba, on a "watch list"

(CNN) -- The numbers are shocking: 12,000 people killed in a cycle of violence between Christians and Muslims stretching back more than a decade.
The location: Nigeria, the most populous nation in Africa, lying on the continent's fault line between the largely Muslim north and predominantly Christian south.
The number of people convicted and sentenced for the killings: Zero.
That's just one of many stark assessments about the level of religious persecution around the world today in a huge new report from the U.S. Commission on International Religious Freedom.
The report names more than two dozen countries as offenders. Some engage in what's classically thought of as religious persecution.
Egypt, for example, not only imprisons members of the Baha'i faith and members of minority Muslim sects, but also has some fired from their jobs, kicked out of universities and barred from having bank accounts, driver's licenses, even birth certificates, according to the report.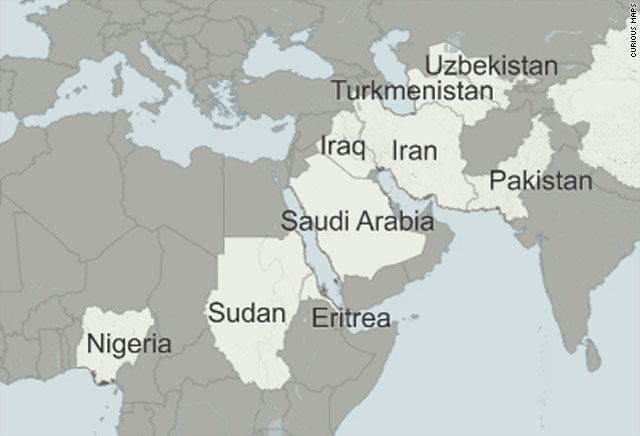 Worldwide religious repression
Other countries, such as Saudi Arabia, export "extremist ideology," the commission charges. But the kind of religious persecution seen in Nigeria and some other countries is "equally egregious," the report says. "Many governments fail to punish religiously motivated violence perpetrated by private actors," it says, warning that "impunity... often leads to endless cycles of sectarian violence."
It calls Nigeria "a tragic case in point," saying that in the most recent outbreak of killing in Nigeria's Jos State several months ago, 500 "men, women and children were hacked to death with machetes and then dumped into wells.
"Not a single criminal, Muslim or Christian, has been convicted and sentenced in Nigeria's ten years of religious violence," the report claims.
The commission did have limited praise for Nigeria's government, saying that when an USCRIF team went to the African nation in March, it found officials "attentive and even grateful for its concerns."
The Ministry of Justice filed 41 prosecutions while the American team was in Nigeria, the report said. Even so, the commission recommended that the United States include Nigeria on a list of 13 nations called "countries of particular concern" which engage in "severe violations of religious freedom."
CNN has reached out to the governments of Egypt, Saudi Arabia, and Nigeria for comment, but has so far not received a response to the report.
The other countries were North Korea, Eritrea, Iran, Pakistan, China, Saudi Arabia, Sudan, Turkmenistan, Uzbekistan, Vietnam and Myanmar (also known as Burma) and Iraq. (Commissioners were not unanimous in including Iraq on the list.)
That's five more countries than are on the State Department's "countries of particular concern" list from its 2009 report on religious freedom. That list doesn't include Iraq, Nigeria, Pakistan, Turkmenistan or Vietnam.
Not a single criminal, Muslim or Christian, has been convicted and sentenced in Nigeria's ten years of religious violence.
--U.S. Commission on International Religious Freedom
The list is similar to one compiled recently by the Pew Forum on Religion & Public Life, but not identical. The Washington-based think tank put out a global survey of restrictions on religion in December. Saudi Arabia, Iran, Uzbekistan, China, Egypt, Myanmar/Burma, the Maldives, Eritrea, Malaysia and Brunei topped that list of countries with the most government restrictions on religion.
More than two out of three people around the world live in countries with high or very high restrictions on religion, the Pew Forum concluded.
The U.S. Commission on International Religious Freedom studied only 28 countries, but since it is a congressionally mandated body, its recommendations can have significantly more impact than those of the Pew Forum.
Designation as a "country of particular concern" can prompt concrete action from the United States, such as restrictions on arms exports or other trade.
But in reality, the government often waives or circumvents sanctions on countries of strategic importance, such as Saudi Arabia and China, a chart in the USCRIF report shows.
The commission report also has a watch list of countries which "require very close attention." That list includes Afghanistan, Belarus, Cuba, Egypt, India, Indonesia, Laos, Russia, Somalia, Tajikistan, Turkey and Venezuela.
It recommends that three other countries -- Bangladesh, Kazakhstan and Sri Lanka -- be "closely monitored."
Many of the incidents which worry the commission made international headlines in the past year, including China's crackdown on Uyghur Muslims in the west of the country, and Iran's labeling its domestic political opponents "enemies of God" -- a capital offense.
But others are ongoing problems that often attract little attention, such as Eritrea's harrassment of Orthodox Church members and Jehovah's Witnesses, or the imprisonment of Buddhists and Protestants in Vietnam.
The report also criticizes the United States government itself for not doing enough to fight the problem.
"Neither prior Democratic nor Republican administrations, nor the current administration, have been sufficiently engaged in promoting the freedom of religion or belief abroad," the commissioners charge.
The commission based its report on visits to some of the countries at issue, meetings with bodies such as the European Union and the Vatican, news reports and the findings of government agencies and international organizations ranging from the American Islamic Conference to the Russian-Chechen Friendship Society.
The paper published Thursday is the 11th annual report since the commission was established by the 1998 International Religious Freedom Act.