Yinka Shonibare: The anarchist artist
STORY HIGHLIGHTS
Anglo-Nigerian artist Yinka Shonibare grew up between Lagos and London
Nelson's Ship in a Bottle, the next commission for the Fourth Plinth, will be unveiled on May 24
In 2005 Shonibare was made Member of the Order of the British Empire
(CNN) -- Leading Anglo-Nigerian artist Yinka Shonibare will make history when his artwork is unveiled at London's Trafalgar Square on May 24.
Shonibare will be the first black British artist whose work will grace the Fourth Plinth in the north-west of Trafalgar Square.
Built in 1841, the plinth was originally built for an equestrian statue but lay empty for many years. Now specially commissioned pieces feature on it.
Shonibare's artwork for the plinth is titled "Nelson's Ship in a Bottle," and combines elements of the British Empire as well as his African background.
The sails of Nelsons ships are made from colorful African fabrics, which Shonibare sources from Brixton market in south London.
In a statement released by the Mayor of London's office, who commissioned the piece, he said: "A ship in a bottle is an object of wonder. Adults and children are intrigued by its mystery.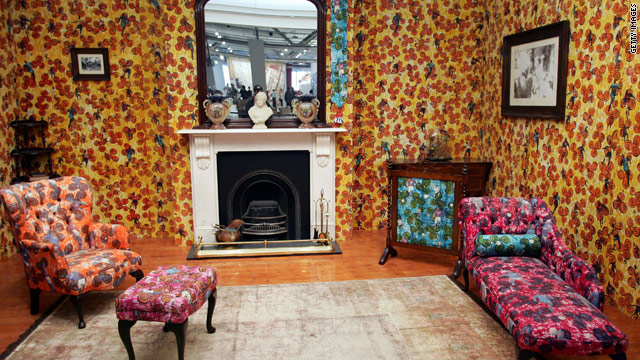 Gallery: Anglo Nigerian artist Yinka Shonibare
"How can such towering masts and billowing sails fit inside such a commonplace object? With 'Nelson's Ship in a Bottle,' I want to take this childhood sense of wonder and amplify it to match the monumental scale of Trafalgar Square."
Through his paintings, sculptures and photography, Shonibare has found a way of explaining issues that have divided the world for centuries, including imperialism, race issues and globalization.
As a London-born Nigerian who grew up in Lagos, and then returned to London to pursue his artistic career, Shonibare himself is an embodiment of these issues.
By combining conflicting elements in his installations, Shonibare's aim is to explore racial issues and to provoke. His works helped him understand what he became as a result of history, he told CNN.
Aged 19, he returned to London after spending his childhood spent in Lagos. A few weeks later, he became seriously ill with a rare viral infection which attacked his spine and left him temporarily paralyzed. He spent years in physiotherapy learning how to perform basic movements again.
He is now paralyzed down one side and walks using a stick. The event impacted his professional and personal life beyond recognition as he had to develop his own way of doing things, he told CNN.
In 2005, Shonibare was made Member of the Order of the British Empire. Shonibare's works are currently exhibited at Washington's Smithsonian Institution.
His installations have been shown in some of the worlds leading museums and exhibitions, including the 49th Venice Bienniale in Italy and the Royal Academy of Arts in London.