Zuma launches health campaign by disclosing HIV status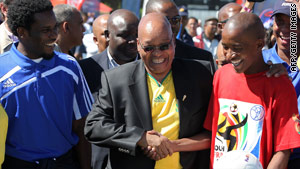 President Zuma (center) chats to young footballers on April 21 to mark the 50-day countdown to World Cup.
STORY HIGHLIGHTS
S. African President Zuma says he is HIV negative as he launches anti-AIDS program
President's sex life has been controversial subject in country of 49 million
Zuma is member of Zulu culture, and has three wives and 19 children
United Nations estimates 5.7 million South Africans are HIV-positive, highest rate worldwide
(CNN) -- President Jacob Zuma launched a program to combat AIDS in South Africa by making a public announcement that he is HIV negative.
"After careful consideration, I have decided to share my test results with South Africans," Zuma said Sunday. "The purpose is to promote openness and to eradicate the silence and stigma that accompanies this epidemic."
The president's sex life has been a controversial subject in the country of 49 million.
Zuma is a member of the Zulu culture, which practices polygamy. He has three wives and 19 children, according to his Web site. Polygamy is legal in South Africa, but has sparked criticism from opponents who say it is out of step with modern times and unfair to women.
Adding to the criticism, Zuma was acquitted of charges of raping an AIDS activist four years ago. During the trial, he said he knowingly had consensual sex with the HIV positive woman and thought he could ensure his safety by showering afterward.
Zuma also recently apologized for fathering a child out of wedlock, prompting an outcry from critics who said he was undermining the nation's health campaign.
The United Nations estimates that 5.7 million South Africans are HIV-positive, the highest rate worldwide. The new campaign aims to test one-third of the population by June next year.