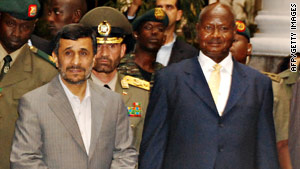 Iranian President Mahmoud Ahmadinejad, left, is welcomed by Uganda's Yoweri Museveni.
STORY HIGHLIGHTS
President Yoweri Museveni to discuss with United States Iran nuclear issue
Mahmoud Ahmadinejad in Uganda seeking support for his country's nuclear program
President Yoweri Museveni defends right for nations to have nuclear technology
Uganda is a non-permanent member of the U.N. Security Council
Entebbe, Uganda (CNN) -- Ugandan President Yoweri Museveni said Saturday that he will seek clarification from the Obama administration over possible sanctions against Iran to get a better understanding of the debate over the country's contested nuclear program before making a decision on the dispute.
When asked what Uganda's position is on the sanctions, Museveni said: "We are just students on this matter. It is a debate I have not been following."
Museveni has recently sought guidance from British Prime Minister Gordon Brown and Iranian Foreign Minister Manounchehr Mottaki "to hear from them why they are in dispute over nuclear use."
"Now I'm going to engage the United States to hear their version, then come back to and consult with our African brothers whom I represent on the U.N. Security Council," Museveni said.
Uganda is a non-permanent member of the U.N. Security Council.

Video: Critics eyeing Ahmadinejad in Africa

Video: Ahmadinejad in Uganda to talk oil
Museveni, however, noted that Uganda will be not be pushed by any of its donors saying, "We are not agents of the West on the U.N. Security Council -- we are representatives of Africa and we follow what Africa decides."
Iranian leader Mahmoud Ahmadinejad, who arrived in Uganda on Friday to seek support for his country's controversial nuclear program, confirmed discussing the sanctions, which he described as a "joke."
"We want Uganda to understand that our nuclear program is for peaceful purposes, but Iran is being denied the right to develop it on baseless suspicions by the West," Ahmadinejad said.
He warned that "if Obama goes ahead to push for sanctions on us, he would have unmasked the true cruel face of America, meaning policies have not changed and is just working on the brutal Bush policies."
Earlier, during a state dinner, Ahmadinejad accused the West of trying to deny countries the right to nuclear energy.
Countries have the right to use nuclear energy and it's treason to deny nations that right, he said, according to the Ugandan presidential press service.
Museveni, on the other hand, called for a "nuclear weapons-free world," defending nations' rights to have access to nuclear technology, but only for "peaceful purposes" such as medical uses.
"Nuclear weapons are dangerous for humanity -- even more dangerous than all the other previous weapon systems," Museveni said. "We should, therefore, work for a nuclear weapons-free world. This means that those who have these weapons should work to get rid of them under an internationally agreed and verifiable treaty."
Iran has been under harsh criticism from the United States and its allies, who have called for tougher sanctions over its nuclear ambitions. The Islamic republic has said it intends to produce nuclear energy only for peaceful purposes, including civilian electricity and medical research.
Ahmadinejad arrived in Uganda on Friday to seek support for his country's controversial nuclear program as he eyes the Uganda's virgin oil sector. He is expected to sign various trade and investment deals in oil development, agriculture, health and real estate.
During a visit to Tehran last year, Museveni invited Iranian investors to build an oil refinery in Uganda's northwest region, which is believed to hold at least 2 billion barrels of commercial oil. Museveni has said Uganda is looking for partners with technical expertise to set up a refinery. Oil-rich Iran will also fund a housing complex and a tractor assembly plant near the capital, Kampala.
Uganda was one of two African nations Ahmadinejad visited this week.
He also made a two-day trip to Zimbabwe, where he launched a tractor production line and attended a trade fair.
Zimbabwe President Robert Mugabe said he and Ahmadinejad have the "same policy and same stance -- anti-imperialist, anti-colonialist and a stance to protect our sovereignty and our right of ownership of our resources."
Iran has economic agreements with more than a dozen African nations.