World Cup will be safe from terror, says S. Africa's police minister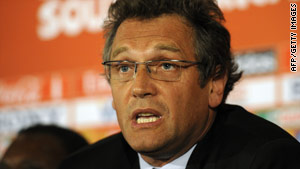 Secretary General Jerome Valcke says FIFA is working to ensure the tournament will take place without incident.
STORY HIGHLIGHTS
Security designed to defeat any plans to attack soccer tournament, official says
Article in al Qaeda-linked publication suggests attack on U.S.-Britain match
Article also implies threat to teams, fans from France, Germany and Italy
Johannesburg, South Africa (CNN) -- South Africa responded late Friday to published terrorist threats by insisting that this summer's World Cup will be safe.
Minister of Police Nathi Mthethwa reiterated South Africa's security preparations, which he said were designed to overcome such threats. He added that no confirmation exists of the threat, published by Algeria-based al Qaeda in the Islamic Maghreb.
"We know that events such as the World Cup often present a temptation for criminals to commit crime or would-be terrorists to send negative and disturbing messages," Mthethwa said.
"We are steadfast in our security plans, and we will not be distracted in our cause. Any type of deviant behavior, be it criminality or terrorism, will be dealt with swiftly and with no mercy."
The al Qaeda branch group threatened to target a June 12 match between the United States and England in Rustenberg.
"How beautiful will it be when the match between America and Britain is aired live and the stadium is full of crusader viewers and you will hear an explosion and the stadium will be upside down and you will find dozens of killed and God willing hundreds," said an article published in a jihadist magazine. "Fifty grams will be enough for such an operation."
The article lists other countries playing in the 2010 World Cup: France, Germany and Italy.
"Are all the hotels, parks and areas safe for these teams? Now it is time to take the war to your stadiums," the article said.
Authored by someone named Ubada Bin Al-Samet and published by the Sumood Media Brigades, the media wing of al Qaeda in the Islamic Maghreb, the article goes on to say that South Africa is a "fertile land for such an event" because of its proximity to Middle Eastern nations that are home to Islamic extremist groups.
Mthethwa said South African authorities are working with domestic and international agencies, including Interpol and its own intelligence and police agencies, to guard against any attacks.
"We are fully convinced that the security forces, supported by our intelligence community and all other role-players, are 100 percent prepared to efficiently secure this event," he said.
Jerome Valcke, the secretary general of FIFA, said soccer's governing body was working to ensure the tournament would take place without incident.
He said FIFA was partnering with high-level security agencies to "make sure that nothing will happen in South Africa."
About 450,000 foreign visitors were initially expected at this year's World Cup, the first to be hosted in Africa. But with two months left before the event begins, excess tickets indicate that international crowds may be thinner.
CNN's Nkepile Mabuse contributed to this report.