STORY HIGHLIGHTS
Ayaan and Idyl Mohallim were born in Somalia, but left aged nine to escape the civil war
They have set up a New York fashion label inspired by traditional African clothing
Their clothes will feature in South Africa's Africa Fashion Week this summer
New York (CNN) -- Two Somali women are making a splash in the New York fashion scene, designing a range of clothes that take their inspiration from Africa.
Identical twins Ayaan and Idyl Mohallim were born in Somalia, but left for the United States aged nine to escape the civil war.
They grew up in Washington D.C. before going to college -- one in Boston and the other in Michigan. After graduation they headed for New York City and set up fashion label Mataano -- the Somali word for twins.
Seeing that New Yorkers were wedded to wearing black, the Mohallim twins were determined to brighten up the city with a splash of African color.
Ayaan told CNN, "We came into this industry and realized that with a lot of the clothes that we saw, everything was black.
"You know in Africa, with everything you wear it's almost like the peacock theory -- people want to be noticed, they want to stand out.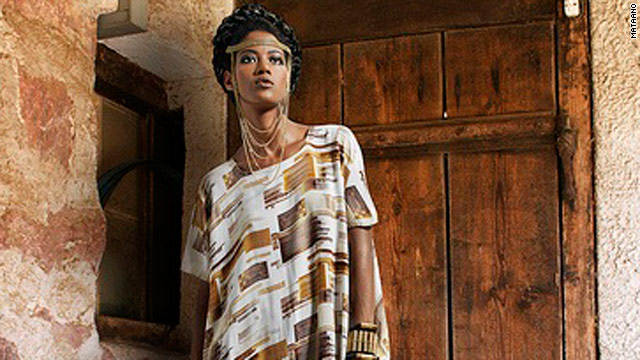 Gallery:
"So the world's taking notice. It's not about designers going to Africa for a safari and coming back with an animal print and big bangles and saying 'here's your one trick pony.'
"Africa is not a homogenous place -- it has different cultures. So now there's a medium for it and there's more designers that are traveling abroad and bringing that aesthetic to this market."
The pair have been in business for less than two years, but they are taking inspiration from the entire continent of Africa, drawing on the traditional dress of specific regions and subcultures. Their childhood in Somalia has left a lasting impression that can be seen in their designs.
The Somali woman has strength and we want to evoke this through our collection.
--Ayaan Mohallim
"The Somali woman has strength and we want to evoke this through our collection," said Ayaan. "So we design really flowy, beautiful dresses that have a nice strong print that showcases the strength these women really have."
"For our Spring 2010 collection we also used Somali references and inspirations," said Idyl.
"There was one silhouette that's worn by every woman in Somalia, called a 'dirac.' We didn't want to recreate it too much, we just wanted to introduce that and say 'it's relevant and you can wear it in a western culture.'"
But while they are fusing traditional African clothing with modern Manhattan sensibilities, they have to be sensitive to cultural differences in their more conservative homeland.
"We got a lot of feedback from Somalis everywhere," said Idyl. "A lot of our consumers and fans are writing us and saying 'you guys are making beautiful clothes but some of them are not modest enough, especially not for the Somali culture and Somali woman.'
"So that's something that we really had to pay attention to and try to create something for everyone, while staying true to the collection."
The twins' new collection will debut on runways in South Africa this summer during Africa Fashion Week. They say it's a big step in the right direction, but they have their sights set on expanding even further.
99-year-old graduate fights Africa's brain drain
"In the next few years we definitely want to expand our business," said Idyl. "We want to go global. We want to be in Europe, the Middle East, and especially Africa.
"We want to speak to the global consumer -- and not just for women -- we've been getting a lot of requests from men."
As they grow beyond the boutiques of Brooklyn and Manhattan, the twins believe their story is one that resonates with people from all backgrounds.
"We're bringing a positive story and people connect with that because we're following the American dream and we've overcome a lot of obstacles," said Idyl.
"We've had to assimilate, but at the same time there are so many immigrants, so many different individuals doing that throughout the Diaspora, throughout Africa, so there is a positive story that needs to be told.
"I think it's really refreshing to hear a different side of Somalia ... that we're not all pirates!"
Mark Tutton contributed to this report
FOLLOW THIS TOPIC