Leaders call on Guinea-Bissau to maintain democracy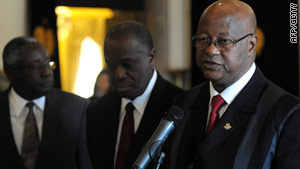 Prime Minister Carlos Gomes Junior after a meeting with Portuguese President Anibal Cavaco Silva in Lisbon, March
STORY HIGHLIGHTS
Jean Ping, African Union commission president, urges nation to remain calm
United Nations chief Ban Ki-moon asks nation to maintain constitutional order
Power struggle in nation's military apparently spurs abductions
Prime minister and Cabinet members freed after three hours
(CNN) -- A top African Union official has urged the west African nation of Guinea-Bissau to refrain from actions that would undermine democracy after army officers briefly detained the prime minister.
Military officers also seized the nation's army chief in the incident Thursday, highlighting an apparent power struggle in a country rocked by political and military turbulence over the years.
The actions underscore an urgent need for reform in the country's defense and security, said Jean Ping, African Union commission president.
Ping called on the nation Thursday "to abstain from any actions that would destabilize the normal functioning of democratically-elected Institutions."
United Nations chief Ban Ki-moon also urged the nation to resolve its differences peacefully and maintain constitutional order.
Officers seized Prime Minister Carlos Gomes Junior and a few Cabinet members for about three hours, said Maria Adiatu Nandigna, a government spokeswoman.
Army chief Zamora Induta was also placed under arrest. A leading human rights group in the country decried the seizure and demanded a public clarification on what happened.
The act represents "an attempt against the democratic legality and the international law in defense of the occult and personal interests of some people," Guinean League for Human Rights said. "This is a shameful and irrational act against the institutions of the republic."
Troops who seized the officials are believed to be followers of Rear Adm. Bubo Na Tchuto, who was accused of staging a coup years ago. Tchuto had been in exile in Gambia and returned to Guinea-Bissau, where he faced threats of arrest. He decided to take refuge at the United Nations' office in Bissau for the past three months. There had been negotiations between the government and the U.N. office to release Tchuto, who left the U.N. premises Thursday.
The former Portuguese colony has been rocked by instability for years. President Joao Bernardo Vieira was assassinated in March last year to apparently avenge the death of an army chief a day earlier. The nation elected a new president in July.
President Malam Bacai Sanha met with advisers to discuss the incident and said "the situation is under control."
Self-proclaimed army chief, Antonio Indjai, said the seizures are a "military problem, not a coup" in a statement on state radio. "Military institutions remain, and will remain, submissive to political power," he said.