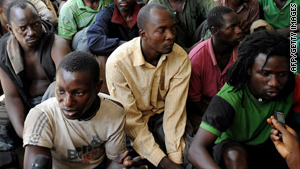 People suspected of involvement in violence are shown at Jos police headquarters on Wednesday.
STORY HIGHLIGHTS
At least 200 people have been killed in the recent sectarian violence
Conflict does not have religious roots says former Nigerian President Olusegun Obasanjo
Nigerian Nobel Prize winner Wole Soyinka says next year's election will be crucial
150 Muslims were killed in violence in the Jos area in January
(CNN) -- Former Nigerian President Olusegun Obasanjo insisted Wednesday that this week's explosion of violence that claimed at least 200 lives is not driven by religious tensions between Christians and Muslims -- but by ethnic, social, and economic problems.
In Sunday's violence near the central city of Jos, Christian villagers said a mob armed with guns, knives and machetes killed and burned at will, leaving a trail of death and destruction. The attack came in the same area that 150 Muslims were killed in January.
In an interview with CNN's Christiane Amanpour, Obasanjo said, "If you have one group or a community that has land that's been encroached upon by another community or even by itinerant cattle farmers, then the people who lay claim to the land will fight back."
"If there are job opportunities in an area, and persons believe they are indigenous to that area, and (are) not getting enough out of the jobs that are available, they will fight those who are getting the jobs," Obasanjo said.
Obasanjo said he's convinced the conflict in the oil-rich nation does not have religious roots, because Nigerian religious leaders have come together and deliberated on the problems in Jos, which lies on a faith-based fault-line between Muslim-dominated northern Nigeria and the mainly Christian south.

Video: Nigerian survivor's story

Video: Breakdown on Nigeria violence

Video: Nigeria's sectarian violence
The former president also said it will be very dangerous if the acting president of Nigeria, Goodluck Jonathan, fails to implement reforms quickly because that country -- Africa's most populous -- is full of expectations for change.
Thousands of Nigerians Wednesday protested in the Nigerian capital, Abuja, demanding urgent action from the government on a host of issues ranging from corruption to unemployment.
CNN's Christiane Purefoy, reporting from the scene, said there was a lot of tension between police and the protesters, who believe that local governors are trying to get away with as much as they can because there's no one in charge at the top.
Acting President Jonathan continues to hold the reins of power, even though ailing President Umaru Yar'Adua has returned to Nigeria after three months treatment for an unspecified medical condition in Saudi Arabia.
Purefoy reported that Jonathan hardly ever makes any public appearances, and seems to be acting president in name only, without exercising real power.
Obasanjo said the whole episode with Yar'Adua is unusual. "I think ... the way it was handled by his handlers and the way it's been couched in secrecy and shrouded in mystery is strange. Somebody said it can only happen in 'wonderland' Nigeria."
Nigerian Nobel Prize winner Wole Soyinka told Amanpour the Nigerian people are demanding a sovereign national conference to empower the right people to restructure and reform the country.
He said next year's general election will be crucial to the future of the nation. "Right now we're running a constitution that has been imposed on the people themselves," he added.
Soyinka said the political system in Nigeria has been handed down first by the colonial past, and then by what he called "the internal colonial past," which is the military.
Amanpour also spoke with another Nobel Prize laureate on the program, Archbishop Desmond Tutu of South Africa, who has always preached reconciliation over the urge for revenge.
Tutu has written a new book "Made for Goodness" with his daughter, the Rev. Mpho Tutu. The book says that people are inherently good and there is inherent goodness on the earth.
"All of history has demonstrated the truth that evil people, evil systems, don't last forever. They bite the dust," Archbishop Tutu said.
"The fact of the matter is that evil is really an aberration. After God creates, God says, it is not just good, it's very good... and God rubs both hands and says 'ha, ha.'"
Archbishop Tutu was chairman of the Truth and Reconciliation Commission in South Africa that tried to heal the wounds in the country after decades of apartheid.
Reports from Nigeria say lawmakers in the parliament there are proposing their own Truth and Reconciliation Commission, to end the distrust that has fueled the violence in the center of the country.