Annan urged to intervene in Kenyan dispute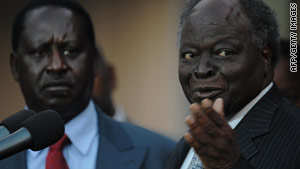 Kenyan President Mwai Kibaki, right, stands alongside Prime Minister Raila Odinga in July 2009.
STORY HIGHLIGHTS
President, prime minister at odds over latter's move to suspend two ministers
Agriculture, education ministers face investigation over corruption scandal
PM Odinga, President Kibaki in power-sharing government brokered by Kofi Annan
Odinga calls on former U.N. chief to intervene in present dispute
Nairobi, Kenya (CNN) -- Kenya's prime minister on Monday urged former U.N. chief Kofi Annan to intervene in a dispute with the nation's president over the suspension of two Cabinet members.
Raila Odinga and his party called on Annan's "immediate intervention" after a conflict with President Mwai Kibaki. The standoff started when the president revoked the prime minister's suspension of the agriculture and education ministers to allow them to be investigated for corruption.
Shortly after the prime minister made the announcement on Sunday, the president revoked the suspension. He said Odinga had no power to suspend the ministers and he had not consulted him before announcing the suspension.
"The office of a minister can only become vacant if the president so directs," Kibaki said in a statement.
But the prime minister said Monday he had the right to supervise government officials.
"The law is clear. On matters of discipline, suspension or interdiction of public officials including Cabinet ministers, the prime minister has exclusive authority," Odinga said in a statement. "Legally and constitutionally, neither the president nor the prime minister is superior to the other."
Odinga had suspended agriculture minister William Ruto and education minister Samuel Ongeri for three months after a corruption scandal in their ministries.
The disappearance of millions of dollars worth of subsidized maize and education funds "have laid a foundation for the two ministers" to be investigated, Odinga said.
Last month, the United States and Britain suspended education aid to Kenya after auditors accused the government program of fraud.
The latest stand-off threatens to dismantle an already shaky coalition government, sparking fresh fears of renewed ethnic fighting that killed about 1,300 and left hundreds of thousands displaced in 2008. The violence started after Odinga accused Kibaki of rigging the results of the presidential election.
Annan helped secure a power-sharing deal between the two rivals that helped end post-election violence.
CNN's David McKenzie and Faith Karimi contributed to this report.