Torrential rain could bring flooding to East Coast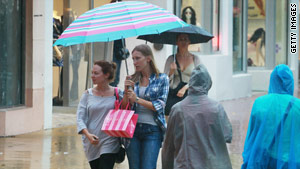 The remnants from Tropical Storm Nicole brought rain to Miami Beach, Florida, on Wednesday.
STORY HIGHLIGHTS
Heavy rain expected Thursday along parts of East Coast

Tropical Storm Nicole dissipated in Florida on Wednesday; Storm's remnants moving north

Storm blamed for two deaths in Jamaica

Read more about this story from CNN affiliates WBAL and WRAL.
(CNN) -- Tropical Storm Nicole only lasted a few hours, but its remnants, along with a stalled frontal boundary, are expected to dump heavy rain Thursday on parts of the Eastern Seaboard.
Flood warnings are in effect Thursday for parts of the Carolinas and southeastern Virginia. Flood watch advisories are in effect from eastern South Carolina to central and eastern parts of New York, Vermont and New Hampshire.
On Wednesday, torrential rain drenched portions of eastern North Carolina. Fifteen inches of rain has already fallen this week in Wilmington, North Carolina.
New Hanover County could receive between seven and 14 inches of rain overall between Wednesday night and Thursday night, emergency management director Warren Lee told CNN affiliate WRAL.
North Carolina Gov. Beverly Perdue issued a state of emergency ahead of the storm. Flooding is expected to subside across the region on Friday.
Tropical Storm Nicole strengthened just enough to become the 14th named storm of the busy hurricane season. It dissipated over the Florida Straits on Wednesday, with minimal issues across the state, but the storm proved deadly in Jamaica, dumping at least 8 inches of rain in parts of the country.
Some neighborhoods were under 4 to 5 feet of water, Ronald Jackson, director general of the Office of Disaster Preparedness and Emergency Management, told CNN Wednesday evening.
About 30 roads were affected, including many on the island's Northern Range, Jackson said. An undetermined number of residents were displaced.
A teenage boy died and five others were missing when a house collapsed in a gully in the Barbican-Liguanea neighborhood. Another person died after being swept away in Flagman in western Jamaica, officials said.
FOLLOW THIS TOPIC