STORY HIGHLIGHTS
Officials say long-term recovery could take months in Rhode Island

Floodwaters begin to recede as Rhode Islanders survey damage

Pawtuxet River in Cranston, Rhode Island, is not likely to fall below flood stage until Sunday

Residents in some areas warned not to drink unboiled water

(CNN) -- Anuj Arora's house doesn't sit in a flood zone and isn't covered by flood insurance, but the structure couldn't escape the deluge. The floodwaters inundating Rhode Island this week soaked the floors and walls of Arora's split-level ranch house in West Warwick.
"I talked to some of my neighbors. They are in similar situations. No one out here has flood insurance," said Arora, 30, a hotel manager who lives in the house with his wife.
"I'm looking at several thousand dollars in expenses, and with a new baby on the way, I don't know how we're going to do it all."
Arora is one of thousands of flood-weary Rhode Islanders taking stock of waterlogged roads and structures as waters start receding. Officials said Thursday the long-term recovery could take months.
Are you affected by flooding? Share photos, videos and stories
A rainstorm soaked the Northeast on Tuesday, worsening the effects of another major storm from two weeks ago. Rhode Island appeared to have fared the worst.

Video: 'Everything's gone'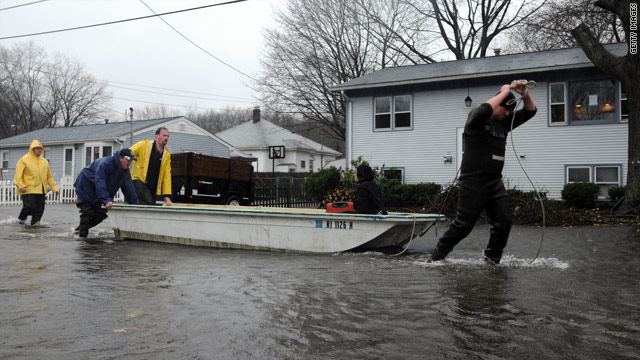 Gallery: Northeast flooding

Video: Cousins save man from sinking car

Video: Obama visits agency battling floods
The storm dumped 8.75 inches of rain in East Providence, 7.6 inches in downtown Providence and 5 inches in Cranston, said Tom Econopouly of the Northeast River Forecast Center in Massachusetts.
Department of Homeland Security Secretary Janet Napolitano will visit Rhode Island on Friday to inspect flood damage and meet with state and local leaders to discuss response and recovery efforts.
President Obama has made an emergency declaration for Rhode Island, which ordered federal aid to help state and local response efforts. Federal Emergency Management Agency officials also are supporting state and local responders.
The Pawtuxet River, which runs through Cranston, crested at 20.79 feet Wednesday, nearly 12 feet above flood stage, according to the National Oceanic and Atmospheric Administration. The water level has started a slow decline.
"Pawtuxet River is now falling. ... It will remain in major flood status until about midday on Friday," the National Weather Service said. The river isn't likely to fall below flood stage until Sunday.
Pawtuxet River swamps Rhode Island mall
Cranston Mayor Allan Fung said his city was facing "dire circumstances."
Warwick Mayor Scott Avedisian told CNN's "American Morning" that officials are trying to make sewer authority pumping stations operational so people can start using the water system again.
Avedisian said the Pawtuxet River isn't "receding as quickly as we would have envisioned. So we're having water problems in areas that traditionally have never had problems before."
Some thoroughfares have been closed, and Avedisian said the state is assessing infrastructure and helping businesses relocate and reopen as soon as possible.
Dan Neal, 25, a freelance writer and college student from Cranston, said that many basements have been flooded, destroying people's possessions, and he believes many homes and businesses will have to be razed because they've been so badly damaged.
He said officials have warned residents not to drink unboiled water or wash clothes because sewage treatment plants have failed in the area. Neal said the only other natural disaster he faintly remembers is Hurricane Bob from 1991.
"This is a bit more real. I can see the actual devastation of it. When it comes to man vs. nature, nature wins every time," he said. "We aren't really prepared for flooding. When this happened, nobody was prepared."