Month's third blizzard pounds Northeast
STORY HIGHLIGHTS
NEW: Two feet of snow piling up in Massachusetts, New York
NEW: New York residents told to stay out of city parks after snow-laden tree limb kills man
Scattered power outages reported throughout the Northeast
More than a thousand flights cancelled at New York-area airports
(CNN) -- The Northeast saw its third blizzard of the month on Thursday, with more than two feet of snow piling up in parts of Massachusetts and New York, unleashing yet another wave of school and work closures, dangerous road conditions, and flight cancellations.
Some areas could see another foot or more of accumulation by Friday.
New York City's Parks Department warned residents to stay out of city parks after snow brought down a tree limb that struck a man dead in Central Park.
Much of upstate New York had between 22 and 30 inches of snow by Thursday evening. Massachusetts is averaging 22 inches across the state. Pennsylvania has seen between 8 and 16 inches of snow so far.
Some areas could see one to two more feet of snow by Friday. CNN meteorologist Sean Morris says the majority of snowfall will occur overnight.
The storm canceled more than a thousand flights at New York-area airports, said John Kelly, a spokesman for the Port Authority of New York and New Jersey. Most cancellations were at Newark Liberty International Airport, with LaGuardia Airport and John F. Kennedy International Airport also scrapping flights.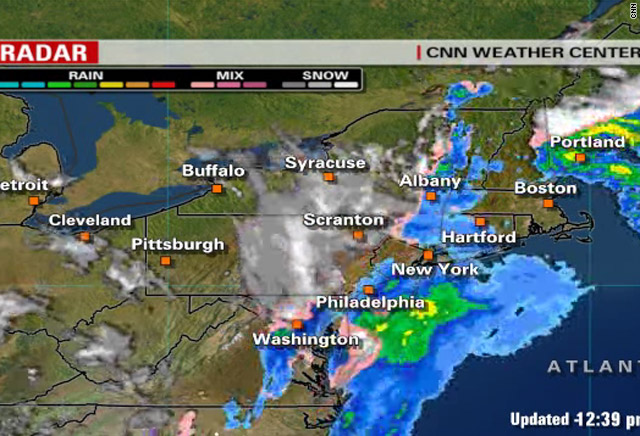 Severe weather tracker
The New York Police Department said the man killed by the falling tree limb in Central Park was 56. A few minutes after that incident, an entire tree crashed into a city bus two blocks north, though no injuries were reported.
The Parks Department said both incidents were likely caused by the accumulation of wet, heavy snow on trees.
Still, the storm hasn't yet wreaked as much havoc as did February's two earlier blizzards. Power companies in the New York area are reporting few outages. About 100 customers scattered throughout New York and nearby Westchester County were without power Thursday evening, according to Con Edison of New York spokeswoman Sara Banda.
The Long Island Light and Power Company reported that just 60 of its 1.1 million customers were without power Thursday night. The New York Power Authority hasn't experienced any outages, according to a spokesperson.
The airlines said that it was too early to determine what conditions would be like Friday. Most carriers were waiving change fees for passengers wanting to postpone flights scheduled for Thursday and Friday.
Transportation systems throughout the Northeast were bracing for more snow and rain on Thursday night and Friday. The Port Authority of New York and New Jersey has nearly 300 pieces of equipment located at airports, bridges, and tunnels. The Long Island Railroad added eight eastbound trains Thursday afternoon for passengers leaving work early due to the storm.
Southeastern Pennsylvania Transport Authority has salt trucks out and crews standing by in anticipation of worsening conditions into the evening.
Share your winter weather photos and videos
Amtrak reports its Northeast Corridor between New York, Boston, and Washington remains unaffected, but that eight of its New York state trains have been canceled.