 STORY HIGHLIGHTS
Airlines cancel hundreds of flights in Chicago, Northeast

Another 10 to 20 inches of snow forecast for northern Virginia, eastern Maryland

Federal workers, students in Washington told to stay home Tuesday

Record 32.4 inches of snow fell on Dulles International Airport over weekend

Washington (CNN) -- Another massive snowstorm barreled into the mid-Atlantic region Tuesday, as residents still reeling from a paralyzing weekend blizzard faced more of the same.
Hundreds of flights were canceled, and airlines were waiting to see whether they would have to cancel more. No flights were expected to be operating Wednesday at Reagan National Airport or at Washington Dulles International, the Washington Airports Authority said.
Federal workers and schoolchildren in the nation's capital were told to stay home for a second consecutive day.
The National Weather Service predicted another 10 to 20 inches of snow for northern Virginia, eastern Maryland and Washington beginning Tuesday afternoon and continuing through Wednesday.
In last weekend's blizzard, a record 32.4 inches of snow fell on Washington's Dulles International Airport over two days, breaking the January 7-8, 1996, record of 23.2 inches.
Are you there? Share your winter weather photos, video
If as severe as predicted, the new storm will be the third major snowfall to hit the nation's capital and surrounding region in slightly more than seven weeks.

Video: Weather won't stop work

Video: Pittsburgh calls for backup

Video: 'No plows, no way out'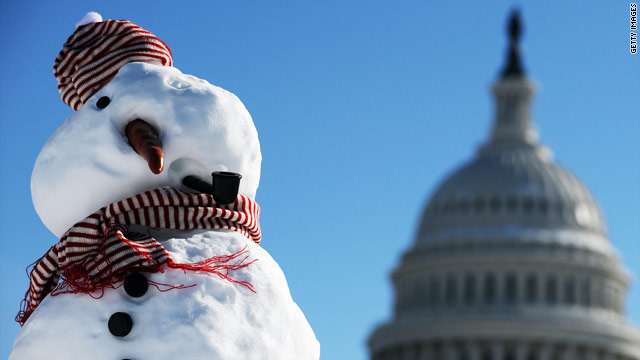 Gallery: 'Snowmageddon' in mid-Atlantic
In Washington on Tuesday, out-of-towners Susan Martin and Robert Travers told CNN affiliate WJLA they had just flown to the city for a conference, but learned when they arrived that the conference had been canceled. Flights that would take them home from Reagan National Airport had been canceled, too.
"We probably won't get a flight back out of here until Thursday. That's what they're telling us," Martin told WJLA.
WJLA.com: People stranded at Washington airports, train stations
It was not expected to begin snowing in some areas until Tuesday night or Wednesday.
Forecasters said Philadelphia, Pennsylvania, could be slammed with 3 to 7 inches Tuesday and an additional 8 to 12 inches on Wednesday; Washington, 4 to 8 inches on Tuesday night and another 3 to 7 inches Wednesday; 5 to 8 inches Tuesday and 3 to 5 on Wednesday in Boston, Massachusetts; and 2 to 4 inches Tuesday and 6 to 10 inches Wednesday in New York.
Snow coverage from CNN affiliate WBAL
Delays of 30 minutes were reported for some flights at Chicago, Illinois', O'Hare International Airport, where more than 600 flights were canceled. Most of the flights at Midway Airport also were canceled, according to Gregg Cunningham, spokesman for the Chicago Department of Aviation.
Southwest Airlines was expecting to resume its normal schedule Wednesday at 10:30 a.m., he said.
Travelers should confirm the status of their flights by checking their airline's Web site before departing for the airport, he advised.
Delta Air Lines canceled 375 flights, including regional flights, in various locations Tuesday, spokesman Anthony Black said. He said a decision would be made Tuesday evening on any Wednesday cancellations.
American Airlines canceled 80 flights into and out of Washington and Philadelphia, spokesman Tim Wagner said. American and Delta said they had pre-emptively canceled 120 flights for Wednesday for both cities.
US Airways canceled 135 mainline flights and 307 US Airways Express flights systemwide, spokesman Andrew Christie said. He said the airline has canceled 380 mainline flights and 1,042 US Airways Express flights.
Snow causes more headaches for travelers
The storms were taking a financial toll on local governments.
Alexandria, Virginia, spent more than $1 million for the massive snowstorm that hit the region in December, budget analyst Morgan Routt said, and the city was still cleaning up after last weekend's storm.
"So, you can imagine, that's costing even more," he said. "We've had people working around the clock."
The city, whose fiscal year runs from July 1 to June 30, generally budgets $790,000 annually for snow removal. That covers the costs of equipment, personnel, contractors, materials and supplies.
For the 2009 year ending in July, Routt said, the city spent only $485,000.
Part of this year's costs are reimbursable by the federal government because the governor declared a snow emergency, he added.
All Washington National Guard full-time personnel were asked to report for duty Tuesday morning and expect to stay for two or three nights, helping with emergency response operations.
Elsewhere, crews worked 24-hour shifts to clear roads and repair power lines, warning that it might take days to restore electricity to some customers from Pennsylvania to Virginia.
In Mount Penn, Pennsylvania, about 50 miles northwest of Philadelphia, many people were using the space between last week's storm and the approaching one to fix snowblowers, CNN affiliate WFMZ reported.
Dave Swope, who has worked at Leinbach's Hardware in Mount Penn for 25 years, said Tuesday he has never seen so many people wanting to fix their snowblowers at the same time.
"We got people yesterday asking us how to start them, how to turn them on," Swope told WFMZ. "They just haven't used them in years, and then the knowledge goes away."
WFMZ.com: Snow blowers piled up for fixing before storm
CNN's Steve Kastenbaum and Sean Morris contributed to this report.