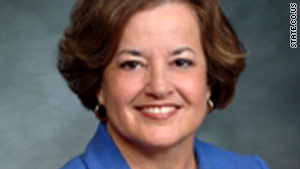 Colorado state Sen. Suzanne Williams was treated and released from a hospital after the collision.
STORY HIGHLIGHTS
Police: Sen. Suzanne Williams veered her car into oncoming traffic for "an unknown reason"
Brianna Gomez, a pregnant mother of two, was killed; son was delivered by C-section
Williams, D-Aurora, was wearing seatbelt, but son and 2 grandsons weren't
Todd Edward Williams and his sons Tristan and Tyler are listed in stable condition
(CNN) -- Texas authorities are investigating a fatal accident involving Colorado state Sen. Suzanne Williams, whose car veered across the highway Sunday and collided head-on with another vehicle, killing a pregnant woman, officials said.
Physicians were able to deliver the woman's baby boy by C-section, and he was listed in critical condition in Northwest Texas Hospital in Amarillo, Texas. His mother, Brianna Michelle Gomez, 30, of Amarillo was pronounced dead seven hours after the accident, authorities said.
Gomez was a passenger in a car driven by her husband and carrying their two children, and the three surviving family members were all treated and released from the hospital, said Tela Mange, spokeswoman for the Texas Department of Public Safety.
The use of alcohol isn't suspected in the accident, which occurred in the Texas Panhandle about 100 miles north of Amarillo, and authorities haven't decided whether any charges or tickets would be issued, Mange said.
Williams, 65, a Democrat from Aurora, Colorado, is the only registered Native American state legislator in Colorado and serves as the Democratic Caucus chairwoman, according to her website.
"I cannot express the horror, sadness and grief I feel for an accident that will change forever the lives of a young family," Williams said in a statement. "It is a burden I will carry with me for the rest of my life."
Williams is serving her second four-year term in the state Senate after eight years in the state House of Representatives, her website says.
Married for more than 43 years, Williams is the mother of two grown children and four grandchildren, her website says. She was driving her son Todd Edward Williams, 41, of Denver, and two grandsons Tristan, 3, and Tyler, 7, Mange said.
Suzanne Williams was wearing her seatbelt and was treated and released from the hospital, but her son and two grandsons weren't wearing seatbelts and were listed in stable condition Tuesday at the hospital, Mange said.
Todd and Tyler Williams were ejected from the 2010 Honda CRV driven by the senator, Mange said.
At about 6:30 p.m. the day after Christmas, the senator was driving northbound on U.S. 385 in Hartley County when she veered into southbound traffic "for an unknown reason," Mange said.
Eric James Gomez, 30, of Amarillo was driving a 2003 GMC Yukon and tried to take evasive action, but the two vehicles collided head-on in the center of the roadway, Mange said.
Gomez's car came to a rest on its driver's side, authorities said. Gomez, his wife, and their two children, Mali Elise, 6, and Eleri Cate, 4, were wearing seatbelts, authorities said.
According to the Gomez family blog, the father is an assistant coach for the Amarillo High School varsity football team and the mother worked about five hours a week as a mental health therapist.
"This blog is to keep our family and friends scattered throughout updated on our lives and especially our children and what God is doing with our little family! And to share my weak attempts at making beauty out of chaos and how God does make beauty out of our chaos," Brianna Gomez wrote in the blog.
FOLLOW THIS TOPIC