Injured 'Spider-Man' actor walking, wants to return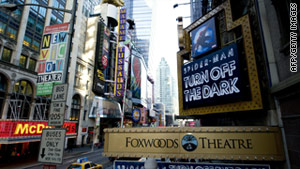 "Spider-Man: Turn Off The Dark" reopened Thursday after several shows were canceled because of an accident.
STORY HIGHLIGHTS
Injured "Spider-Man" actor walking following back surgery
Christopher Tierney fell at least 20 feet during stunt
Cast members have visited him in New York hospital
New York (CNN) -- Heartened by visits from cast members, the actor seriously injured Monday while performing a stunt in the "Spider-Man" musical is walking and wants to return to the show, his father said Saturday.
Christopher Tierney, 31, who fell at least 20 feet in the Broadway production, started taking his first steps Friday following back surgery Tuesday at Bellevue Hospital, according to Tim Tierney.
"Spider-Man: Turn Off The Dark" returned Thursday night after several shows were canceled because of the injury and subsequent safety reviews.
Tim Tierney, who says his son is in stable condition in the ICU, said the actor will learn Monday when he may go home.
The actor suffered four broken ribs, a hairline fracture in his skull, a broken scapula, a bruised lung, three cracked vertebrae and broken bones below his elbow, Tim Tierney told CNN.

'I've always felt safe in the show'

'Spider-Man' swings into action
The family has been boosted by visits from people associated with the production.
"It's like one big happy family," said Tim Tierney. "I never got so many hugs from so many good-looking people in my entire life."
Jonathan Dealwis, a tourist from New Zealand who was in the audience that night, said he saw the actor fall.
"Spider-Man was on a bridge, and Mary Jane was dangling from it," Dealwis said. "I think he was meant to sort of swoop over there, but he just fell off. ... The harness, you could see it just flick off his back and fly backward."
Workers for the show met with the Occupational Safety and Health Administration and the New York State Department of Labor and devised new safety rules for the show.
FOLLOW THIS TOPIC