Report: Some impoverished U.S. counties need foreign aid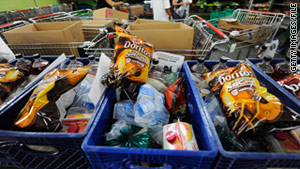 Carts full of groceries wait to be picked up at a Los Angeles food bank in September.
STORY HIGHLIGHTS
The sluggish economy has left some counties with meager aid, report says
The study highlights counties in Mississippi, Louisiana and New York
Children's Defense Fund: U.S. experiencing highest child poverty rate since 1959
(CNN) -- Some American children are facing circumstances so dire that they require foreign aid to supplement services such as tutoring and reading programs, said a report by the Children's Defense Fund released Tuesday.
Events such as Hurricane Katrina and the sluggish economy have left some U.S. counties with meager government aid, forcing some, like the children of Mississippi's Quitman County, to rely on a grant from the Bernard van Leer Foundation of the Netherlands -- for tutoring and reading programs, the report said.
The study, "Held Captive: Child Poverty in America," highlights Quitman County in Mississippi; Baton Rouge, Louisiana; and -- what it refers to as "the new face of poverty" -- Long Island, New York.
"Some (people at the foundation) wondered why it should be working in the most affluent country in the world, but they decided the reality is we have poor children in this country who are denied the opportunity to be all they can be," said Betty Ward Fletcher, director of a Jackson, Mississippi-based consulting firm contracted by the Dutch foundation to help it design a program in Mississippi.
In Baton Rouge, children displaced by Hurricane Katrina 5½ years ago are still struggling, and largely forgotten, the report says.
And in Long island, families are slipping from middle class to working poor, and the working poor to poverty because of the economy, the housing crisis, gaps in the cost of living vs. wages, and a lack of financial safety nets.
"The current economic crisis continues to drag more families and their children into poverty," the Children's Defense Fund said. "This Christmas season, 15.5 million children in America, more than one in five, are living in poverty, a number of them in extreme poverty. This is the highest child poverty rate the nation has experienced since 1959."
FOLLOW THIS TOPIC