About 2,000 Marines, sailors to come home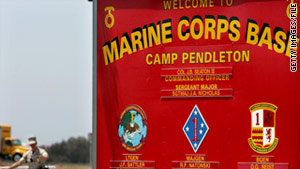 The Marines and sailors are set to be greeted with a big celebration at Camp Pendleton in Southern California.
STORY HIGHLIGHTS
Welcome set for returning troops at Camp Pendleton, other airports in U.S.
They delivered aid to flood victims in Pakistan and worked near Somalia during deployment
United Service Organizations has programs in Afghanistan and Iraq for troops there
Tune in as CNN follows Army troops from the home front to the battle front. Don't miss "A Soldier's Story" at 8 ET Saturday and Sunday nights.
(CNN) -- About 2,000 Marines and sailors will return home Friday to Camp Pendleton in California after being deployed seven months overseas.
During their deployment, the group helped deliver aid to victims of the massive floods in Pakistan and helped to fight pirates in waters near Somalia.
"From humanitarian assistance operations in Pakistan to anti-piracy operations in the Gulf of Aden, our Marines and sailors executed every mission with skill and professionalism," Col. Roy Osborn said.
The Marines and sailors will be greeted with a big celebration at the Southern California base, Osborn said.
Share tributes to the troops in your life
Along with the Camp Pendleton group, thousands of other soldiers will be coming home for the holidays, said the United Service Organizations.
The USO said it will have members at airports in Atlanta, Dallas, Denver, Pensacola, Florida, and Columbia, South Carolina, welcoming thousands of soldiers home in the days before Christmas.
But the organization also will have programs in Afghanistan and Iraq for the soldiers who are not able to get home, the USO said.
"As we decorate trees, wrap presents and celebrate the holidays, let us not forget the thousands of troops deployed to Afghanistan, Iraq and other overseas locations who are left only to quietly remember the food and fellowship this holiday season brings," a statement said.
FOLLOW THIS TOPIC