For Holbrooke team, strategy review is bittersweet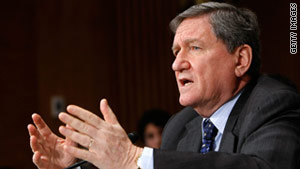 Richard Holbrooke died Monday after doctors performed surgery to repair a tear in his aorta.
STORY HIGHLIGHTS
Team completes Afghanistan-Pakistan review
Members worked for Richard Holbrooke, who died Monday
Frank Ruggiero named acting special representative
Washington (CNN) -- The rollout of the Afghan strategy review Thursday was a bittersweet occasion for the team of Richard Holbrooke.
In introducing the report, President Obama said its contents "reflect the dedication of Ambassador Richard Holbrooke, whose memory we honor and whose work will continue."
Secretary of State Hillary Clinton and Frank Ruggiero, named acting special representative for Afghanistan and Pakistan after Holbrooke's death Monday, were flanked at the State Department podium by two dozen members of his team to pay tribute to the man who helped design the civilian-military strategy for Afghanistan and increased attention to Pakistan as a country critical for solving the conflict.
"To these men and women who spend their days and often their sleepless nights working to make this crucial mission a success, Richard Holbrooke was a friend, a mentor and a boss," Clinton said. "He was a leader who always pushed each and every one of them to reach farther, see better, and think deeper. He took enormous pride in his team and with good reason."
Holbrooke was widely credited in Washington for assembling what Clinton Thursday called a "world-class staff" from all walks of life. During his tenure as special representative, he would often single out individual members of his staff for praise in briefings and during congressional testimony.
Holbrooke, 69, died after doctors performed surgery to repair a tear in his aorta.
Since his passing, countless stories have been told at the State Department about his tenacity in stealing the best minds from various agencies and outside the government.
For example, he recruited Vali Nasr, an expert on South Asia and Iran, via midnight text. He found Rina Amiri, a top expert on democracy and governance on Afghanistan, on the shuttle from New York. Vikram Singh, one of his deputies who focuses on strategic communications, was poached from the Pentagon.
"Richard was relentless in finding the best people and the best ideas wherever they came from," Clinton said.
This week, Holbrooke's team put grief aside and worked around the clock to finish work on the Afghanistan-Pakistan review in the way he would have demanded.
"As evidenced by this team here, Ambassador Holbrooke has put together the very best and brightest to be part of this SRAP [Special Representative for Afghanistan and Pakistan] team, and will continue his mission, which is what he would want us to do," Ruggiero said.