Clinton unveils blueprint for America's diplomatic arm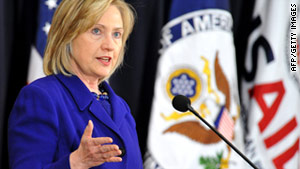 "We are redefining success based on results achieved rather than dollars spent, Secretary of State Hillary Clinton said.
STORY HIGHLIGHTS
Clinton wants to bolster "U.S. civilian power"
Report emphasizes results rather than dollars spent
Oxfam sees pros, cons in new approach
Washington (CNN) -- Secretary of State Hillary Clinton Wednesday unveiled a sweeping assessment of how America's diplomats can meet the dual task of countering expanding international challenges and shrinking government budgets.
"We are redefining success based on results achieved rather than dollars spent," Secretary Clinton said as she introduced the department's first-ever Quadrennial Diplomacy and Development Review (QDDR.) "This will help us make the case that bolstering U.S. civilian power is a wise investment for American taxpayers that will pay off by averting conflicts, opening markets and reducing threats."
The report, nearly 200 pages long and 18 months in preparation, is a blueprint of how the State Department and the United States Agency for International Development (USAID) can use "civilian power" to prevent and resolve conflicts; help poor countries develop and build global coalitions to address global problems. "Leading through civilian power," she said, "saves lives and money."
The department has been criticized previously for insufficient oversight of private contractors and Clinton pledged to "improve the way we manage contracts and procurement by rebalancing our workforce, enhancing oversight and accountability, and emphasizing local leadership."
The Secretary depicted the State Department as both a diplomatic tool and a catalyst to spur economic growth, open markets for U.S. goods and create jobs in the United States.
"As you dig into this report," she said, "you'll see it's driven by two overarching factors, first is President Obama's focus on fiscal responsibility and efficiency throughout the federal government. Through the review, we have tried to minimize costs, maximize impacts, avoid overlap and duplication and focus on delivering results."
The plan also proposes several new offices to be created within the State Department and USAID, including a new bureau for counterterrorism to help counter violent extremism and manage U.S. counterterrorism partnerships around the world.
Several nongovernmental organizations praised the report, including Oxfam. Paul O'Brien, vice president of policy and advocacy campaigns for Oxfam America, noted however, "The secretary's vignette of a jeep driven by a diplomat with a development expert in the front seat is compelling, but what happens when there is a fork in the road?"
"In too many places around the globe," he said, "the way the U.S. government operates fails to live up to this vision, with short-term political imperatives taking the jeep one way and longer-term development priorities going the other."
"The QDDR will ultimately be judged," he said, "by whether or not the U.S. government empowers development professionals and priorities to have more influence when our development and diplomatic goals come into tension. To that end, there is still much work to be done to resolve how an integrated approach will be resourced on the ground."
FOLLOW THIS TOPIC