STORY HIGHLIGHTS
Miami is increasingly a portal to the art of Latin America
Fairs like Art Basel Miami Beach and Arte Americas are promoting Latin American artists
A painting by Cuban artist Wilfredo Lam sold for $3 million in early December
The economies of countries like Brazil are helping the arts across Latin America to flourish
(CNN) -- One of the few Cuban commodities you can buy in the United States is art -- and the place to get it is Miami.
For years a hub for Hispanic communities in the United States, Miami is now an important gateway for the new art of Cuba -- and Latin America more generally.
Now in its ninth year, Art Basel Miami Beach, is the city's premier art fair and each year it invites galleries from all over the world to exhibit and sell modern and contemporary art.
A short plane ride away from, say, Brazil, with its rising economy, the fair is increasingly drawing Latin American galleries showcasing exciting new work, as well as international galleries wooing the continent's wealthy elite in the hope of a sale.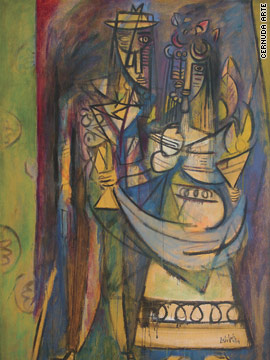 Gallery: Latin America's contemporary art
"At a time when the economies of Western Europe and North America are pretty shaky, and Brazil is just booming, galleries need new collectors to keep things moving," said Marc Spiegler, co-director of Art Basel.
He added that Art Basel Miami Beach, the North American sister fair of the esteemed Swiss art fair, was chosen for its proximity to Latin America.
It has taken a while for the art market there to grow, he said, but the current economic situation in Latin America is helping to speed things up.
Indeed, sales at the fair, which ran over four days at the beginning of December, indicate that global interest in both modern and contemporary Cuban art is growing.
Cernuda Arte, a Coral Gables, Florida gallery specializing in art from Cuba exhibiting at the fair for the first time this year, made a record sale of a 1944 painting by Cuban artist Wilfredo Lam for $3 million -- to a Cuban-American collector.
Unlike other commodities, art is exempt from the U.S. trade embargo on Cuba, and can move comparatively freely between the two nations.
Brazilian artist Beatriz Milhazes, who presented a floor-based ceramic work for the booth of the Swiss Beyeler Foundation, was also a talking point at the fair.
Milhazes, whose paintings are bright explorations of the flora and fauna of her home country, set a record in 2008 for a Brazilian artist with a painting that sold at Sotheby's auction house in New York for over $1 million.
She said that when she first started painting in the early 1990s there was little in the way of an art scene in Brazil. Now, with its flourishing economy, all that is changing.
As for her auction success, she said: "It's a big achievement for everybody in my country."
Miami is also home to Arte Américas, an annual art fair dedicated to showcasing art from countries across Latin America. Now also preparing for its ninth edition, the fair is proving to be a top destination for regional as well as international collectors.
It's one of the very few jungles out there that's still left for contemporary art
--Art dealer Ramon Cernuda
Leslie Pantín, the director of the fair, said: "The art from Latin America is still very accessible as far as price is concerned. So, many people start a collection like I did, with the art from Latin America because the prices are still very affordable."
Pantín's collection takes in mostly Cuban artists, ranging from modern artist Victor Manuel to contemporary art collective Los Carpinteros ("The Carpenters").
Underpinning the investment of collectors and galleries in art from Latin America is the quality of the art itself, which Spiegler and Pantín agree is very high.
Spiegler compared the way Latin American artists deal with complex issues such as politics and urbanism with the poetic writings of authors such as Julio Cortázar, Gabriel García Márquez and Jorge Borges.
And according to Ramón Cernuda from Cernuda Arte, artists are eager for growth.
Cuban artists in particular, he said, are looking forward to changes in their society that will facilitate further creative development. It is up to the rest of the world, he said, to realize it.
"It's one of the very few jungles out there that's still left for contemporary art," he said.
"We have the names, we're already beginning to get known, but there's much more art out there that needs to be explored," he said.
FOLLOW THIS TOPIC