Flooding hits western Washington, mudslides halt Amtrak service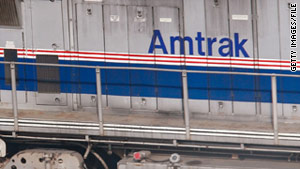 Amtrak says it will provide bus transportation for those affected by the closure.
STORY HIGHLIGHTS
NEW: Nine counties report flooding, Washington state says
NEW: Mudslide north of Seattle adds to Amtrak woes
A transportation official says heavy rains caused the mudslide
Service on the passenger line is expected to resume Monday
(CNN) -- Heavy rains caused several rivers in western Washington state to overflow their banks Sunday, and triggered mudslides that shut down passenger trains north and south of Seattle, authorities said.
Rivers in nine counties had crested at or above flood stage by Sunday morning, the state Emergency Operations Center reported. And a mudslide north of Vancouver, Washington, just across the state line from Portland, Oregon, shut down Amtrak's Cascades train route for 48 hours, Washington Department of Transportation spokeswoman Vickie Sheehan said.
"They have to make sure where the mudslide occurred or anywhere else along that track, that the slope is stable enough to where there will not be any chances of an additional mudslide occurring before they release passenger traffic back onto the track," Sheehan told CNN.
Mudslides occurred north of Seattle as well, effectively shutting down train service that connected the city to Canada, Sheehan said. But shutting down the Portland-to-Seattle run has "a much bigger impact that affects a lot more people," she said.
"That's our most heavily traveled area, so that'll affect a lot more passengers," Sheehan said.
The larger mudslide occurred six miles north of Vancouver on Saturday evening, said Gus Melonas, a spokesman for the Burlington Northern Santa Fe Railway, which owns the tracks. An adjacent freight line that carries up to 40 trains a day was also affected by the mudslide, and crews were working to reopen that line Sunday, he said.
Most of western Washington was under flood watches or warnings Sunday afternoon, the National Weather Service reported. "Very wet" weather was expected to continue through Sunday evening, with some flooding likely, forecasters said.
"It is not just the main stem rivers that are flood risks," the Weather Service office in Seattle warned. "Local flooding from small streams and urban flooding of low lying streets will occur, and landslides are also possible."
The mudslides also affected two of Amtrak's longer runs, the railroad announced. The Chicago-to-Seattle Empire Builder trains were being halted in Spokane, Washington, while service on the Los Angeles-to-Seattle Coast Starlight was being halted in Portland.
Amtrak will provide bus service for all ticketed passengers throughout the weekend and until the rail line reopens, Amtrak spokeswoman Vernae Graham said.
CNN's Shelby Lin Erdman, Leslie Tripp and Greg Morrison contributed to this report.