Rumsfeld: Government documents in new memoir, but not like WikiLeaks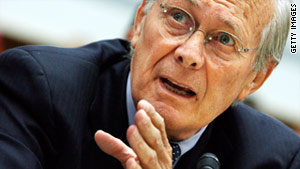 Donald Rumsfeld has taken to Twitter and Facebook to publicize his upcoming book.
STORY HIGHLIGHTS
Former Defense Secretary Donald Rumsfeld is publishing a memoir
He says the book will release hundreds of previously classified documents
Unlike WikiLeaks, all have been cleared by the government, Rumsfeld says
Washington (CNN) -- One of the best known -- and most controversial -- public figures of recent years, who said he never used e-mail, is now a devotee of social media, and is using it as a means of re-emerging in public after several years of low-profile life.
Former Defense Secretary Donald Rumsfeld, whose memoir "Known and Unknown" is about to be published, is using both Twitter and Facebook, to publicize the upcoming book and to discuss current events.
But it's a recent tweet that may be getting the most attention. Using Twitter-friendly abbreviations, Rumsfeld said on his account, "With my book I will release 100s of supporting docs on a website--many previously classified, but unlike #Wikileaks, all cleared by USG."
So far, there is no further information posted on exactly what documents the U.S. government has cleared for Rumsfeld's use.

Hackers rush to WikiLeaks aid

Is WikiLeaks founder a journalist?
The posting comes as Rumsfeld said on Facebook that he "just made last edit to my book, Known and Unknown. Winston Churchill once said, 'Writing a book is an adventure. To begin with, it is a toy and an amusement; then it becomes a mistress, and then it becomes a master, and then a tyrant. The last phase is that just as you are about to be reconciled to your servitude, you... kill the monster and fling him out to the public.'"
In a previous Facebook posting, Rumsfeld was critical of WikiLeaks, the website that has released thousands of secret diplomatic and government documents. Rumsfeld noted that when he served in Congress in the 1960s, he was a co-sponsor of the Freedom of Information Act, which spelled out how classified documents could be made available to the public.
"I was a co-sponsor of FOIA in 1966. There is an appropriate and lawful process for declassifying material. It is not WikiLeaks," Rumsfeld said.
FOLLOW THIS TOPIC