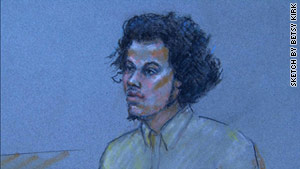 A sketch shows Antonio Martinez, accused of trying to attack a military recruiting center, at his arraignment Wednesday.
STORY HIGHLIGHTS
Revolution Muslim, is a pro-al Qaeda organization founded by two New Yorkers in 2008
Revolution's website and others like it have increasingly cropped up in U.S. terrorism cases
21-year-old Antonio Martinez frequented the site, so did Mohamed Osman Mohamud
Both have recently been arrested on terror charges
(CNN) -- On November 3 law enforcement agents secretly watched as a young Hispanic convert to Islam surfed the internet at a public location in Woodlawn, Maryland, a western suburb of Baltimore. What they saw, according to court documents, followed a pattern of online radicalization that has caused counterterrorism officials plenty of anxiety in recent years.
The man they were trailing -- 21-year-old Antonio Martinez -- had for weeks been the subject of an FBI sting operation because of his alleged desire to attack U.S. military facilities in the United States, apparently inspired by the Fort Hood shooting in Texas almost exactly a year previously. According to the criminal complaint against him, Martinez told an FBI informer that his intended target was an armed forces career center nearby. The purpose was to "instill fear," he told undercover FBI informants.
Martinez was arrested Wednesday after he allegedly tried to detonate a fake vehicle bomb outside the Maryland recruiting station.
Back in November, according to the criminal complaint, Martinez started trawling radical websites, clicked on a link to an Osama bin Laden video, then viewed an Iraqi martyrdom video. He also watched a YouTube video featuring Islamist militants shooting assault rifles overseas.
Perhaps significantly, one of the websites he is alleged to have lingered on was Revolution Muslim, a radical pro-al Qaeda organization founded by two New Yorkers in 2008 that has increasingly cropped up in U.S. terrorism cases. On November 4, the day after spending time on the Revolution Muslim website, Martinez told an undercover FBI informer that he longed to follow in the footsteps of Fort Hood shooter Nidal Hassan. "He may have killed 13 soldiers, but he saved the lives of many Muslims that would have been killed by those soldiers," Martinez said according to court papers.
Revolution Muslim's founders, Yousef al Khattab and Jesse Morton, were both interviewed by CNN's Drew Griffin in October 2009. In the interview Morton, a convert to Islam and onetime follower of The Grateful Dead, identifies himself by his Muslim name Younes Abdullah Muhammad. He defended the September 11, 2001, attacks and argued that further attacks on Americans were justified.
Khattab, for his part, declared his love for Osama bin Laden. Just days after the interview came the shootings at Fort Hood, in which 13 people were killed. Khattab blogged that the accused shooter, Maj. Nidal Hassan, was an "officer and a gentleman." Khattab claims he left Revolution Muslim early this year, concerned about its increasingly radical direction.
On the day Martinez allegedly accessed the site, Revolution Muslim had postings saying the United States was engaged in a war against Islam. Previous postings provided links to Inspire Magazine, an online publication of al Qaeda in the Arabian Peninsula which includes advice on how to build bombs and encrypt messages. The website also includes videos and speeches by Anwar al Awlaki, the charismatic American-born cleric, who Martinez described to FBI undercover informants as his "beloved Sheikh."
Martinez was following a well-trodden path to radicalization. Counterterrorism officials say that radicalization is on the rise in the United States because of the growing presence of English language al Qaeda propaganda sites and new possibilities of interactivity offered by social media.
"We are also seeing ... more and more individuals residing in the United States, who themselves have become radicalized to the point of violence and that's what we're focusing on," Homeland Security Secretary Janet Napolitano said Wednesday when reacting to Martinez' arrest in Baltimore.
Like several other Americans implicated in recent terrorism cases, Martinez appears to have found a community of like-minded invididuals online. An examination of Martinez' Facebook page by CNN found that several of his Facebook friends openly espoused radical Islamist views.
According to his criminal complaint, Martinez also "friended" two extremist organizations on his Facebook page. The first was "Call2Islam," a UK website that counterterrorism officials regard as a front for al Muhajiroun, a pro al Qaeda British group affiliated with Revolution Muslim. The criminal complaint against him says that in his conversations with undercover FBI informants, Martinez made specific mention of the calls to jihad made by the group's founder Omar Bakri Mohammed. Last month Bakri was arrested in Lebanon in a terrorism-related case. He is awaiting a retrial after being convicted in absentia.
The second group was Authentic Tawheed, a Paltalk site run by the extremist Jamaican cleric Abdullah al Faisal, which has organized several online conferences featuring well known radical Islamist English-speaking preachers.
All these radical preachers and organizations are very familiar to British and American security services. In the United States, it is Revolution Muslim that has often cropped up in counterterrorism cases. By CNN's count there have been 28 cases of Americans and U.S. permanent residents implicated in terrorism in the last year and a half, a surge in the number of such cases.
In nine of those cases there has been a direct link between the individual and either Revolution Muslim or its affiliate, the Islamic Thinkers Society.
Among those linked to Revolution Muslim are Abdel Hameed Shehadah, a Hawaian resident charged in October who was a blogger on the site; Samir Khan, thought to be the creator of Inspire Magazine and currently believed at large in Yemen; Zacharay Chesser, a regular blogger on the site who posted what many saw as a threat to the creators of the cartoon South Park in April; and Colleen LaRose, a Pennsylvania woman who was charged in March with plotting to kill cartoonists in Sweden. Chesser pleaded guilty to providing material support to terrorists after being arrested as he prepared to leave the United States for Somalia. LaRose pleaded not guilty. Shehaadah has not entered a plea.
The Revolution Muslim website was one of a network of interconnected websites and blogs in the United States. Mohamed Osman Mohamud, the Somali American charged last month with attempting to bomb a Christmas tree lighting ceremony in Portland, Oregon, made several entries in Jihad Recollections, an online magazine once run by Samir Khan from North Carolina. Mohamud has pleaded not guilty to the plot.
Last month, Revolution Muslim was removed from its online server, after UK officials complained that one posting had praised a young woman who stabbed a member of Parliament. But it has resurfaced under a new name, Islampolicy.com. Recent postings include a video in which Anwar al Awlaki calls for the killing of Americans.
U.S. counterterrorism officials believe Morton is running the site from Morocco and say they continue to monitor the site's postings. Their concern is that Morton's online efforts, and those of other English-language radicals, will continue to attract would-be jihadists.
FOLLOW THIS TOPIC