Pentagon: WikiLeaks has damaged operations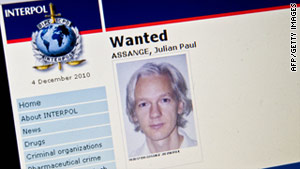 The spokesman had no comment on the arrest of WikiLeaks founder Julian Assange.
STORY HIGHLIGHTS
Adversaries mining information, spokesman says
How they will change their tactics is hard to quantify
Some contacts are "pulling back" because of revelations
Washington (CNN) -- The release of secret documents by WikiLeaks has had a negative impact on Defense Department operations as people and governments hold back information, fearing their identities will be revealed, the Pentagon said Tuesday.
Col. Dave Lapan, Pentagon spokesman, said the documents provide potentially dangerous information to U.S. enemies.
"We do know, from various means that we have, that our adversaries are out there actively mining this for information," Lapan said in a midday off-camera question session at the Pentagon. "We have knowledge that our adversaries are out there using this information but how exactly they are changing their tactics is hard to quantify."
Lapan also said the leaks already have changed dealings between the United States and its friends and allies. "We do get a sense there has been some pulling back because of these revelations," he said. "We have gotten indications that there is at least some change in how individuals and governments cooperate with us and share information."

WikiLeaks arrest politically motivated?

Sen. Lieberman on WikiLeaks' Assange

Julian Assange's legal tangle
Last week, Defense Secretary Robert Gates said that the WikiLeaks document dump would have only "fairly modest" consequences on U.S. international policy.
Lapan took a stronger line on potential risks.
"How do you quantify information that our adversaries have gotten that have taught them things about how we operate. How do you quantify some of the other damaging elements ... learning about our TTP's (tactics, techniques and procedures), learning about how we gather information and intelligence, altering their behavior because of things they have learned," Lapan said. "Those are all real dangers that we believe have occurred but it's hard to again quantify."
The spokesman had no comment on the arrest of WikiLeaks founder, Julian Assange, in Britain on Tuesday. "I don't have a comment here. Obviously the arrest in the UK is connected to the warrant in Sweden, independent of anything the U.S. Department of Justice or the Attorney General has talked about, is undertaking," Lapan said.
FOLLOW THIS TOPIC


Part of complete coverage on

What next for WikiLeaks editor and founder Julian Assange, now that he's been released on bail in the UK?

Julian Assange says the sexual misconduct charges against him are little more than an effort to discredit him and his organization.

WikiLeaks editor walks out of London court after being freed on bail nine days after being arrested for questioning about alleged sex crimes in Sweden.

In 2006, Julian Assange was apparently looking for a date. After launching WikiLeaks, he evidently created a profile on OkCupid.com.

A court in London found itself in the world's spotlight, as a small army of celebrities turned up to offer support -- and bail money -- to Julian Assange.

The founders of Openleaks.org say they are former WikiLeaks members unhappy with the way the organization is being run under Julian Assange.

Hackers who support WikiLeaks want others to replicate the attacks they say took down the websites of MasterCard and Visa.

Does Julian Assange's threat to release "Doomsday Files" from Wikileaks carry validity?


Most popular stories right now