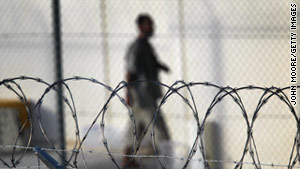 President Obama's deadline to close Guantanamo Bay passed a year ago. The facility is still open, for now.
STORY HIGHLIGHTS
A declassified document shows the number is much lower under the Obama administration
Most of the detainee transfers occurred during the Bush administration, document shows
Number expected to rise due to 2.5-year average lapse between release and recidivism
Sen. Kit Bond, R-Missouri, says figures show the need to keep Guantanamo facility open
Washington (CNN) -- A declassified document made public Tuesday showed that up to 25% of all former detainees at Guantanamo Bay, Cuba, subsequently engaged in terrorism or insurgency, but the percentage is much lower for those transferred under the Obama administration.
The summary issued by Director of National Intelligence James Clapper said that of the 66 detainees transferred to other countries since President Barack Obama took office, two were confirmed and three were suspected of "re-engaging in terrorist or insurgent activities."
Overall, the summary said, a total of 598 detainees had been transferred from the Guantanamo facility, with 150 confirmed or suspected of later taking part in terrorist or insurgent activities.
"Of the 150 former GTMO [Guantanamo] detainees assessed as confirmed or suspected of reengaging in terrorist or insurgent activities, the Intelligence Community assesses that 13 are dead, 54 are in custody, and 83 remain at large," the summary said.
According to the figures, 532 detainees were transferred out under the Bush administration, with 145 of them confirmed or suspected of recidivism, or returning to terrorism. The figures put the rate of recidivism of Bush-era detainees at up to 27%, while the rate for Obama-era detainees is up to 7%.
The summary also said that the number of detainees returning to terrorism will likely increase, as data on the issue showed that, so far, about 2.5 years elapses between when detainees leave the Guantanamo facility and when they re-engage in terrorism.
John Brennan, Obama's assistant on homeland security and counterterrorism, noted in a letter last February to House Speaker Nancy Pelosi that the administration had taken steps to strengthen oversight of Guantanamo detainees, including creation of a task force.
In the letter, Brennan said the task force included "60 career prosecutors, agents, analysts and attorneys from across the government, including civilian, military, and intelligence officials."
"Every decision to transfer a detainee to a foreign country during this administration has been made unanimously by all agencies involved with the review process after a full assessment of intelligence and threat information," Brennan wrote.
Obama pledged when running for president to shut down the Guantanamo Bay facility, but his administration is almost a year behind schedule in making that happen.
Retiring Sen. Christopher "Kit" Bond, R-Missouri, an opponent of the shutdown plan, said Tuesday that the declassified summary showed the need to keep terrorism suspects at Guantanamo Bay.
"It is unacceptable to continue transferring these dangerous detainees when we know that one in four are confirmed or suspected of returning to the fight," Bond said in a statement.
More than 170 detainees are still being held at the Guantanamo Bay facility.
CNN's Pam Benson and Tom Cohen contributed to this story.
FOLLOW THIS TOPIC